Hey guys, I've been looking everywhere for a solution to this: Headphones Working Fine, Mics aren't...But totally no luck. I can see that a lot of people are having this problem and posting it on various forums, without any valid solutions or workarounds.
The Problem:
Asus Laptop
with
Windows 8.1
with only one audio input won't read any external Headphone's MIC.
Description:
1. The Internal MIC works fine and it works everytime even when I plug in an external one.
2. When I plug in external headphone (Headphone's got 2 jacks, black which is for sound and red which is for recording) into the Only ONE audio input there is, Windows gives a popup with its current Audio devices plugged in but it just wont read the MIC. This is what pops up when I plug in the external MIC or headphone.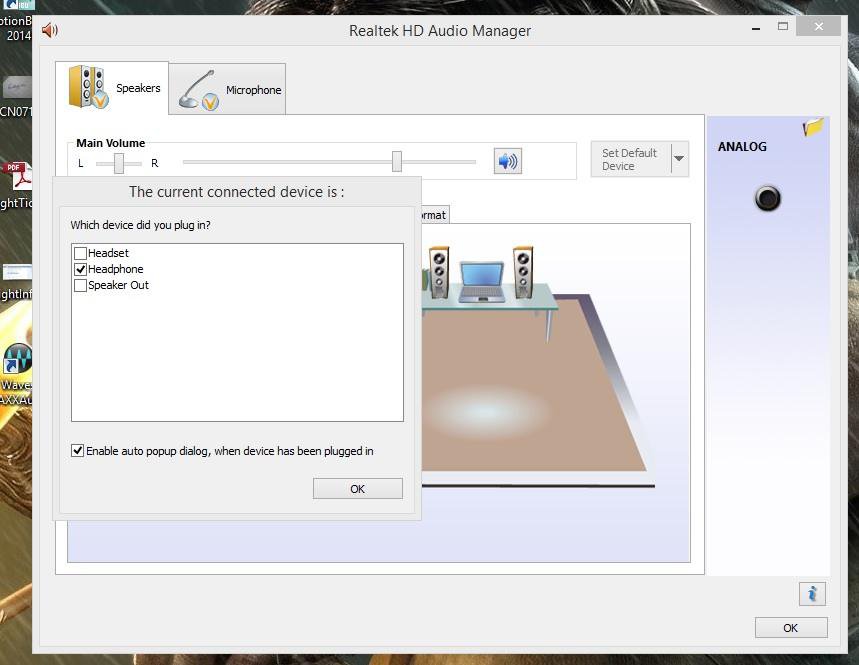 3. Now, When I go to the lower right corner and select Recording Devices from the sound panel, it won't show any external or added device when I plug in the new device. It would just show my internal MIC and something called Stereo MIX, but not my Microphone.
4. Okay, Now when I check Device Manager, and try to update all the Realtek Audio drivers it would just say "everything is latest with latest drivers installed", which is obvious since Windows 8.1 has bundled everything with my laptop.
5. Now you must be thinking of a solution like since my headphone has 2 wires (the red and the black), why not use a Audio Splitter which looks something like this...
, I even bought that one and tried it without any luck. It still won't detect.
6. So, This is basically the problem. I've added everything here in this post, if anyone can find some solution to this that'd be helpful or else I'm going to write a long letter to ASUS to sort their rubbish straight by making 2 HOLES instead of ONE, since every headphone there is has 2 JACKS.. So, we need 2 HOLES for 2 JACKS...
Guys, Your Help is Needed!
PS: I've tried 3 headphones, none work! These same headphones work in different PC with 2 Audio Inputs.
My Computer