Hi guys,
I've had one or two ideas for improving the metro start menu (I know that Microsoft will be improving things in the beta but I have had these ideas at the back of my mind and I wanted to know what people thought).
First off, I'm not going to make you imagine what I was thinking of because I've actually done some mockups but I warn you, I have no artistic or photoshop skills which you may notice (not something that no one with the skills couldn't fix).
What I feel is that going from 7 to 8, i have lost some functionality or I find it harder to do things i.e TURN OFF THE COMPUTER and also I feel things are a bit inconsistent (more on that in a bit) but I feel that the metro start menu has potential if microsoft optimises it for mouse and keyboard and doesn't make it feel like I'm running on a 640x480 res when I open the control panel when I've set my resolution to 1600x900.
So here is my first part of the mockup: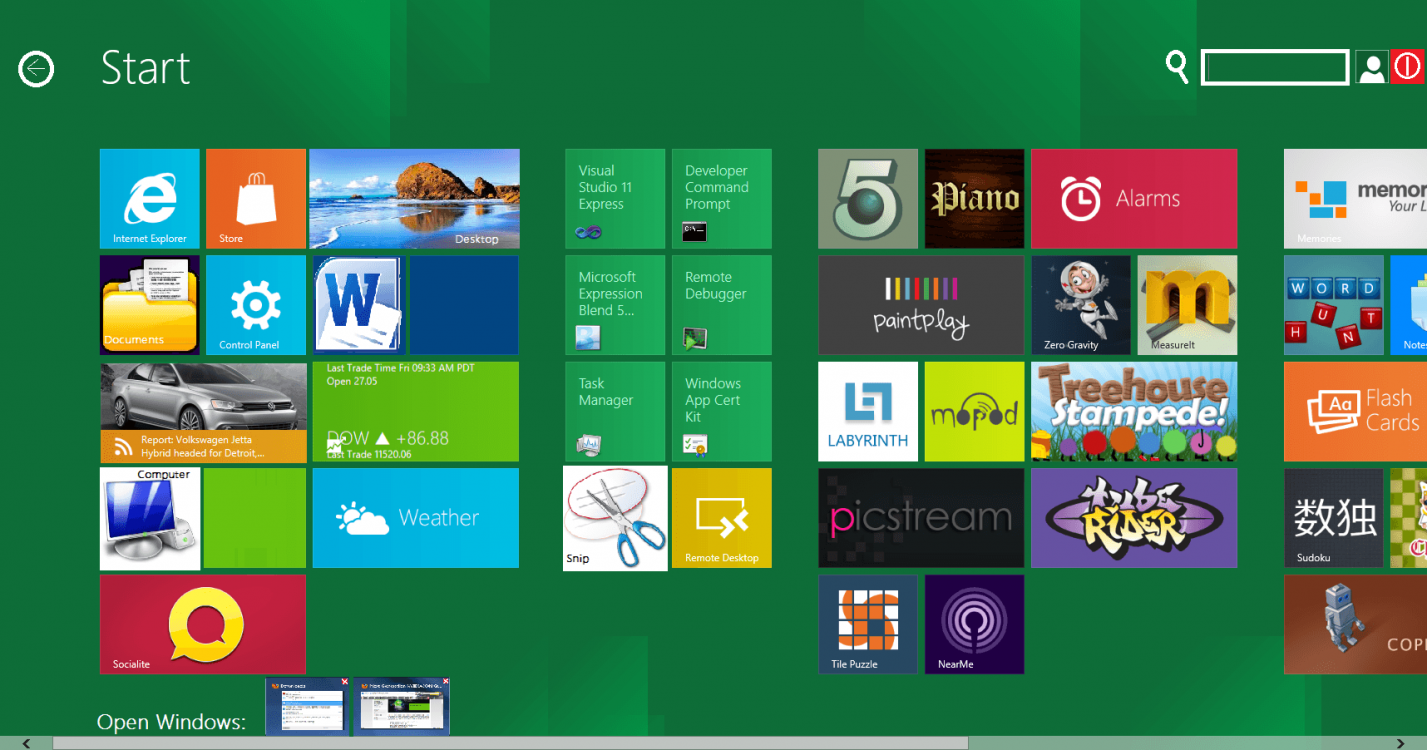 So lets take a look at what I've added. If you look at the top right I've added a much more accessable search functionality (i love windows 7 for its search that's embedded in the start menu and feel a bit lost without it in win 8.). I've also added a button that can allow the user to turn off the machine in one click (or restart through a popup dialog). With the search box I thought it would be a good idea to allow the user to type "run: " and then what ever else which would act like the normal run dialog.
The bottom left of the screen handily shows running apps/open windows and will allow the user to quickly close them in one place. Other than that you may notice a slight difference with the tiles. I was playing around with them and got a bit lost so I left them but Microsoft should make all pinned external exes have a large icon like the word tile that I created. It's much easier to distinguish apps this way when you compare it to the tiles to the right of the desktop tile.
Then there is the top left of the screen which has a windows phone like arrow. Pressing the button with the mouse/your finger or the left arrow key on the keyboard does this:
So it basically shows all the programs, just like the original windows 7/vista start menu would do. I wasn't sure however if it would be better to have the search box re-appear on top of the "All programs" text or if it would still be in view (from the previous picture) for better searching.
Some final ideas: I was thinking that it would be better if microsoft made the metro start menu transparent (40%-60%) so that you don't feel like your jumping into another world when you launch the start menu (That's kind of what I was talking about when I mentioned inconsistencies, i.e it being completely different to the dektop) Finally I was thinking that the desktop shortcut icons should be made bigger (occupy the same space but be as big as possible so as to look like a tile.) but I'm not sure about this idea.
Anyways, If you could tell me what you think that would be great.
Thanks.
My Computer