Microsoft Solved The AMD/Intel Switchabie Graphics Problem
OK, just installed the "mobile" 13.12 and again OVER the already installed beta 13.11.9.5, all went as usual. all is in working order as before. So I'm now pretty much convinced these non OEM drivers are now installable, and am able to continue to do so, this is the 3rd one of these I have installed starting with 13.11.9.4 along with the Intel driver 3347 and so far no major problems.Everything is fine, only thing as I mentioned before was that the system now see's my HP OEM 7690m xt as some 6700 Series, which I said I was aware of anyway as its just a 6770m at its core, so nothing performance wish changed. its no issue to me what the damned card is seen as, its still AMD. With this 3rd install though I at least stopped complaining about it lololol.

I did find that leaving my COMODO AV on when installing these the AMD driver it somehow catches something and stops the completion process and the screen goes black on me, I had this the last time and couldn't figure what was the deal, I re booted using the on/off button as I couldn't see the damned screen, at re boot, things were OK, except I didn't have the CCC installed, and both monitors were on, laptop and external, the monitor issue was fixed by re setting the show only on 1 monitor, the CCC I had to re run the AMD setup again, but this time I closed my COMODO AV, and was able to see the popup system boxes that were installing in the back ground, all went OK and I have CCC back.

I could post the same CCC screen shot but its no different than the one I posted before with 13.11.9.5, it shows the updated driver in the info section, and the switchable graphics page when on "Fixed" mode. I reverted back to fixed from dynamic cause I got tired of setting the different cards for the different programs, this way I know the Radeon is being used all the time unless I go off plug and on battery. Only thing that's a pain is some of my own made screen savers don't like the Radeon card, and won't work unless I have the Intel 3000 set , oh well can't have everything , smirks.

btw I had the system set to "Fixed" when I installed this 13.12 over the installed drivers, some seem to say to use dynamic, some say fixed, I don't think it makes much differance as some don't have that option anyway. Main thing is in my case I DID NOT clean anything, I installed the first 13.11.9.4 over my installed OEM HP SP59850 driver, and have installed each update right over the others with no problems., just in case your interested, as all I read is all this "clean install" stuff.
-------------------------------------------------------------------------------------------------------------
installed OVER my existing driver
installed in FIXED mode
had to close my AV to get CCC installed

Radeon 7690m xt (6770m) (13.12 final)
Intel 3000 (3347)
What's Good Hoody,
There is no more need to install unsigned/unofficial beta drivers from Leshcat.
Microsoft has release a new driver update for systems running AMD/Intel graphics switchable graphics configuration. The "Advanced Micro Device, Inc. - Graphics Adapter WDDM1.3 - AMD Radeon HD 7400M Series" update solves all issues concerning Windows 8, 8.1 and Switchable Graphics.
the update not only contains the latest official AMD Graphics driver, but also installs a fully operable and configurable updated version of the Catalyst Control Center (Version: 2013 1206 1603 26764).
The update is provided by Microsoft through its Windows Update Service. You can also manually download this update via
Microsoft Update Catalog
. Of course, there are different versions of the update depending on the AMD device series your system has installed. While my system updates from The AMD 6490M series to the AMD 7400M series. Yours may use the 7700M series graphics device update. Once at the windows Update Catalog site via the above link I provided just change the search query from 7400M to 7700M. Doing that will take you to the update download page where you can find the particular update you may need.
Simply download the update, save it to a known location on your computer and run it from there. Restart your pc once it finishes and your done. I'm not sure if installing this update over Leshcat drivers is possible so you may need to uninstall them and reinstall the HP provided driver package to ensure this update is unimpeded and will work as it should.
We had discussed being able to use Intel Wireless Display the last time we spoke. This update will allow you to use the Intel Wireless Display Update Utility because these are signed and official AMD/Intel switchable graphics drivers contained in this update. Intel will then recognize your installed drivers as official and run on your system. Remember you also need to update your network card driver for Wireless Display as well as your Intel Graphics to work. The Intel WiDi Update Utility will update and configure your setup after you install this Microsoft update.
Again, below is the Windows Update Catalog link:
Microsoft Update Catalog
P.S., You have to love Microsoft for coming to our rescue, even when the pc manufactures who built these systems with AMD/Intel switchable graphics wouldn't, so BIG THANKS to Microsoft for this update!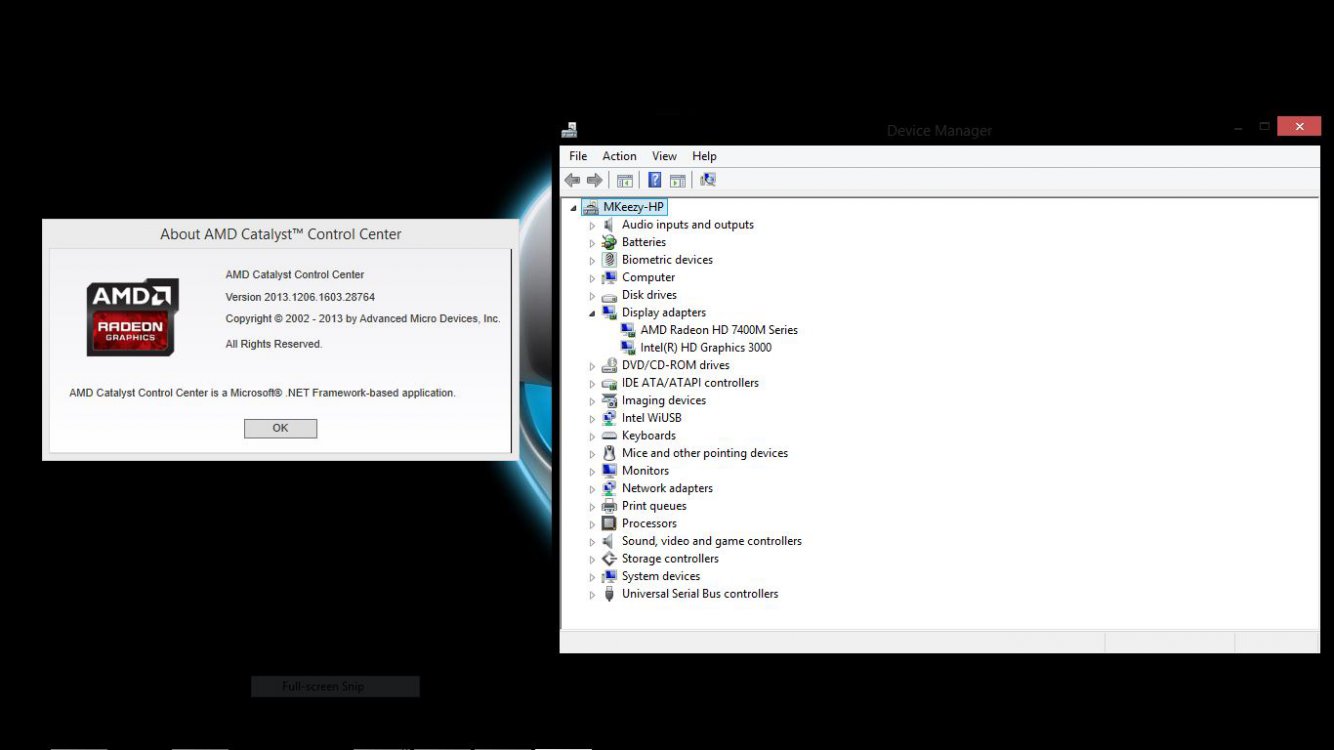 My Computer
OS

Windows 8.1 Pro with Media Center © 2013 Version: 6.3.9600 Build 9600.16408

System Manufacturer/Model

HP Pavilion dv6t – 6100 CTO series Notebook PC LM328AV#ABA

CPU

Intel(R) Core(TM) I7-2720QM @ 2.20 GHz

Motherboard

unknown

Memory

8 GB

Graphics Card(s)

Intel HD + Radeon(TM) HD 6490M

Sound Card

IDT Beats Audio

Screen Resolution

1366 x 768 (Native)

Cooling

HP Cool Sene v.1

Internet Speed

Broadband (Cable)

Browser

IE 11 & Firefox Nightly28.0a1

Other Info

Intel Wireless Display
Bluetooth 4.0