@Jaime, ALL,
I know that I referred you to SP59850 directly to
enable
Switchable Graphics capability; typically I would
also
install the latest AMD Catalyst Beta to enable any performance enhancements (i.e. gaming fixes). You should try adding (installing
after
) the
latest Catalyst Beta
or the SoftPaq listed below to see if it improves things.
It so happens that I have also been working on having Intel Wireless Display working (as it is featured on most Switchable Graphics notebooks); since switching to SP59850 again (from SP60115, a few weeks back) I have noticed that WiDi has stopped working again.
It seems that the Intel driver version required (by Intel) has changed to 9.17.10.
2867
, which is NOT what is in SP59850 (9.17.10.
2843
).
Currently, I'm getting the following error (It was working up to 3 weeks ago):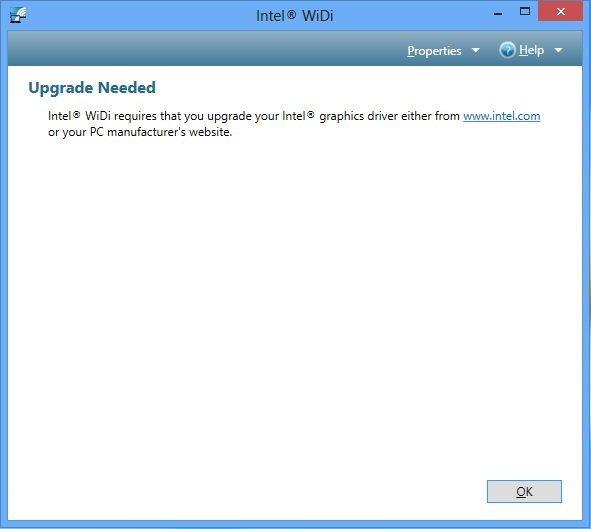 And from the new WiDi installer:
I'll be trying
HP SoftPaq SP60478
and posting results here shortly...[DEL](Switchable Graphics users running ONLY an HP SoftPaq e.g. SP59850 or earlier/later should try this as well, not just WiDi users)[/DEL].
Edit: Tried it, but SP60478 ONLY supports AMD Radeon HD 8750Ms and Intel HD Graphics 4000, it seems. Sorry folks. For WiDi users
with AMD Radeon 8750M ONLY
, there is
SP60478
which coincides with the release of Intel WiDi 3.5.41 (previous release was 3.5.40). A fringe benefit is that it appears that AMD CCC has been updated in this SoftPaq from 9.0.0.0 to 9.3.6.0 (Catalyst 12.11+ release from HP, maybe?)
Feel free to check out
my WiDi FAQ
,
this Intel blog
(plus the comments), and the
Intel Wireless Display Support page
for
system requirements
,
latest downloads
, and more details.
Last edited:
My Computer