Hi.
There is no way of installing this update on my computer:
Windows 8.1 Update for x64-based Systems (KB2919355)
Download size: 693.3 MB
You may need to restart your computer for this update to take effect.
Update type: Important
Windows 8.1 Update is a cumulative set of security updates, critical updates and updates. You must install Windows 8.1 Update to ensure that your computer can continue to receive future Windows Updates, including security updates. For a complete listing of the issues that are included in this update, see the associated Microsoft Knowledge Base article for more information. After you install this item, you may have to restart your computer.
I have attached a picture of said update and what it does it fills that bar pictured.
Asks me to restart to finish installation.
I restart the computer, get no errors.
But when I check for updates to install other updates it says failed (Pictured) and its not installed and asks me to do the same process all over again.
I have read this update gives errors and is complicated.
Please help as I cant get updates newer than this because of this error.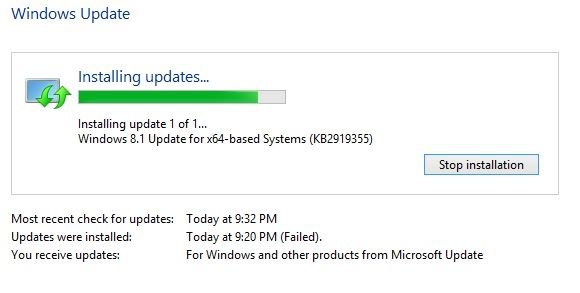 My Computer
OS

Windows 8 Pro

Computer type

PC/Desktop

CPU

Intel Core i5 Processor 2.66 GHz 8 MB LGA1156 CPU I5-750BOX

Motherboard

ASUS P7P55D

Memory

8GB Corsair DDR3

Graphics Card(s)

ATI HD 5770

Sound Card

MotherBoard

Monitor(s) Displays

Asus VK278 27"

Hard Drives

1 x 120 GB SSD
1 x 1 TB SATA
1 x 1.5 TB SATA
2 x 2TB SATA

Case

Cooler Master HAF 932