Hey everyone
Alright, so my ASUS laptop has been getting a little slow lately, so I decided to reinstall. Now I know my PC has an ASUS recovery partition, which reïnstalls the pc with all the tools, drivers etc, since I've used it before.
But now when I restart the computer and press F9 and reset, it doesn't work. This is what I do:
This is where it was supposed to give me the option to restore whole drive or just install windows to the primary partition. But now it asks for a CD, which I don't have. This PC never used to have a recovery CD, just a recovery partition.
Then, I read somewhere I could do the same from inside Windows 8, so I tried that as well by going to the charms bar, then Settings and then "Change PC settings". Then I selected "Update and recovery" from the left, and then went to Recovery, where I pressed the button to remove everything and reinstall windows. This is what I got:
So, I tried to see if EaseUs Partition manager showed the recovery partition. I started ASUS and these are the partitions it found: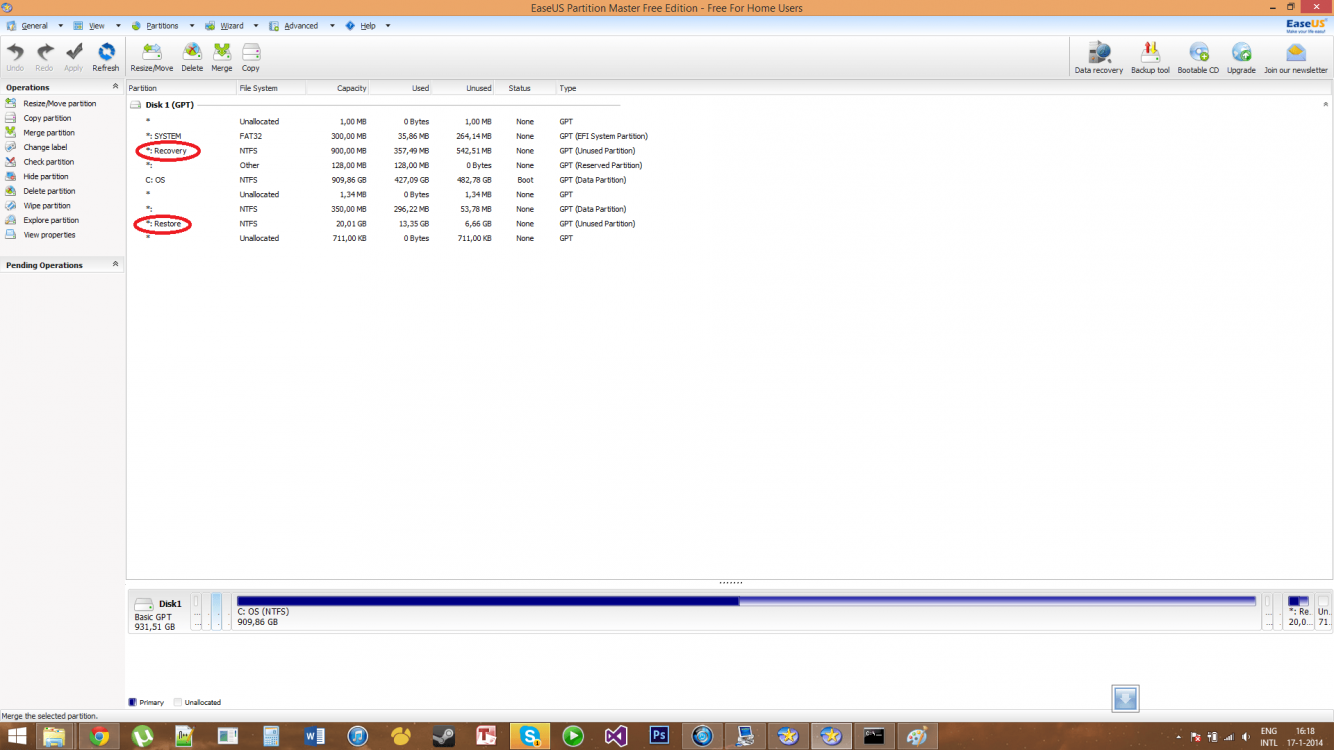 I saw it found both a "Recovery" partition and a "Restore" partition. Now I assume the Recovery partition is the one Windows 8 boots into, and the Restore partition is the one created by ASUS. So, these are the contents of the Recovery partition:
And these are the contents of the Restore partition:
As you can see outlined in red, it does contain an install.wim file, so I know the recovery data is there. However the Windows 8 recovery environment just isn't able to find it.
So I'm lost here. Does anyone have an idea on what I could do to make the recovery partition work again? If any system information is needed, I'll be happy to provide.
Thank you very much in advance!
PS: If this is in the wrong category, I'm sorry, I couldn't find one related to recovery so I decided to place it in here
My Computer
OS

Windows 8.1

Computer type

Laptop

CPU

Intel Core i7 - 3630QM, 2.4 GHz

Memory

8GB

Graphics Card(s)

Nvidia GeForce 740M

Browser

Google Chrome