I can input my name, password and email (using the same name as on here).
But when I come to the Captcha it is literally all Greek to me (see below):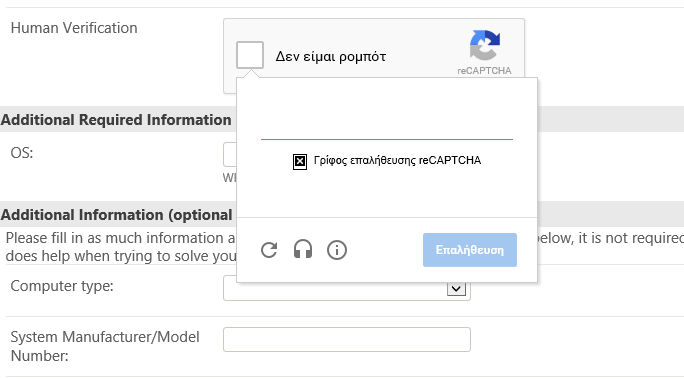 I am actually in Greece, so there is some logic to this, but I have no idea how to complete the Captcha. I can click to hear it and I get a series of numbers and I can even type them into a box, but I can't work out how to get them accepted.
Can anyone help me out (maybe screenshots of the boxes with English text so I know what to put where, or even to work out how to get my Captcha in English) please?
I've just installed W10 TP and just know I'm going to need help to find my way around it
.
Thanks
My Computer
OS

Win8.1 64bit, Windows 10 TP on VMWare Player

Computer type

Laptop

System Manufacturer/Model

Dell Inspiron 15 3521

CPU

1.80 gigahertz Intel Core i5-3337U

Motherboard

Dell Inc. 0010T1 A00

Memory

8gb

Graphics Card(s)

Intel HD Graphics 4000

Sound Card

Realtek HD Audio & Intel Display Audio

Hard Drives

TOSHIBA MQ01ABD050 [Hard drive] (500.11 GB)

Cooling

Additional fan

Mouse

Kensington Trackball

Browser

IE

Antivirus

Emsisoft Internet Security, Malwarebytes free & antiexploit