How to Enable or Disable Touch Keyboard Toolbar in Windows 8 and 8.1​

Information
You can use different keyboards with Windows to fit your needs. The most common is a physical, external keyboard that you plug into your PC. Windows 8 also include a touch keyboard for PCs with touch.
On touch PCs (ex: laptops or tablets), you will notice that if you
turn off the "Touch Keyboard" toolbar
, it may automatically be turned back on again after a restart.
This tutorial will show you how to enable or completely disable the
Touch Keyboard toolbar
on the taskbar for all users in
Windows 8
and
8.1
.
You must be signed in as an
administrator
to be able to do the steps in this tutorial.

Tip

Warning

If you run the

SFC /SCANNOW

command after doing this tutorial to rename the system file, then you will need to repeat this tutorial again since SFC will restore the default file.

EXAMPLE:

Touch Keyboard toolbar on taskbar
Here's How:
1.
In
File Explorer
, navigate to and open the
ink
folder at the location below.
​
C:\Program Files\Common Files\microsoft shared\ink​
​
​
​
2.
Do
step 3 or 4
below for what you would like to do.
3.
To Enable Touch Keyboard Toolbar
NOTE:
This is the default setting
.
​
A) Rename the TipBand.dll.bak file back to TipBand.dll, and go to step 5 below.​
4.
To Disable Touch Keyboard Toolbar
​
​
​
​
​
B) If you have not already,
change the owner
of the
TipBand.dll
file to
Administrators
, and
set permissions
for Administrators to "
Allow
" "
Full control
". (see screenshot below step 1)​
​
​
C) Rename the TipBand.dll file to TipBand.dll.bak, and go to step 5 below. (see screenshot below)​
​
Note
If you ever run the
SFC /SCANNOW
command, it will restore the TipBand.dll file. You would then just need to repeat this step afterwards to disable it again.
Note
​
If you would like to completely disable the Touch Keyboard itself instead, then you could repeat step 4 for the TabTip.exe file to do so.​
​
​
​
​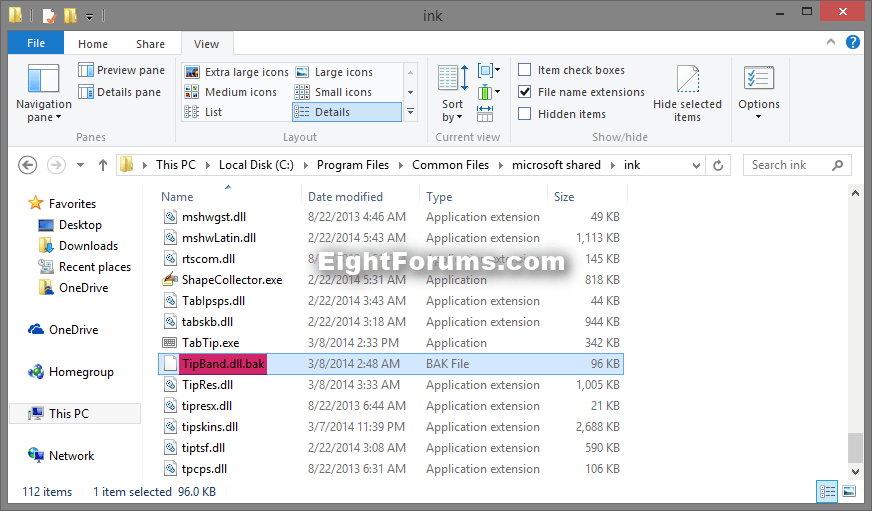 ​
5.
Click/tap on
Yes
to confirm. (see screenshot below)
​

​
6.
If prompted by
UAC
, then click/tap on
Yes
.
7.
When finished, you can close File Explorer if you like.
That's it,
Shawn
Last edited by a moderator: