How to Set a Data Usage Limit for Live App Tile Updates in Windows 8 and 8.1​

Information
Windows 8 Store apps can deliver periodic or real-time information to you that will be displayed as
live notification updates
on your app tiles in Start. Apps that you choose to use as
lock screen apps
can also show notification updates on the lock screen.
Store apps that are
pinned
to Start can update their tiles with text, images, or text and images. Store apps that are set to show status on the lock screen can update the lock screen with text. This tile information is sent from the app provider to you through Windows Notification Service on Microsoft servers, and is then stored locally on your PC.
This tutorial will show you how to set a monthly
data usage limit
for Metro apps live
tile updates
for all users in
Windows 8
to help reduce your overall
metered
wireless network
(ex: Wi-Fi, mobile broadband, Bluetooth) monthly data usage. This feature is not available with wired networks (ex: Ethernet).
After you reach the data usage limit set by you, your Metro apps will let you know when there's new info (updates) waiting for you, but your tiles will not update automatically until the next month when your data usage has reset.
Note
You must be signed in as an administrator to be able to do the steps in this tutorial.


Here's How:
1.
While on your
Start screen
, open the
Charms bar
, and click/tap on
Settings
. (see screenshot below)
​
​
2.
Click/tap on
Tiles
in the Settings charm flyout. (see screenshot below)
​
​
3.
Under
Data used for tile update
in the Tiles flyout, click/tap on the arrow to select how much you want the data usage limit per month to be. (see screenshot below)
NOTE:
Below this you will see how much your current data usage for tile updates is for the current month. This will automatically reset back to zero at the start of each new month
.
Note
The
Data used for tile update
option will only be available if you have set your wireless network as a
metered connection
first.
​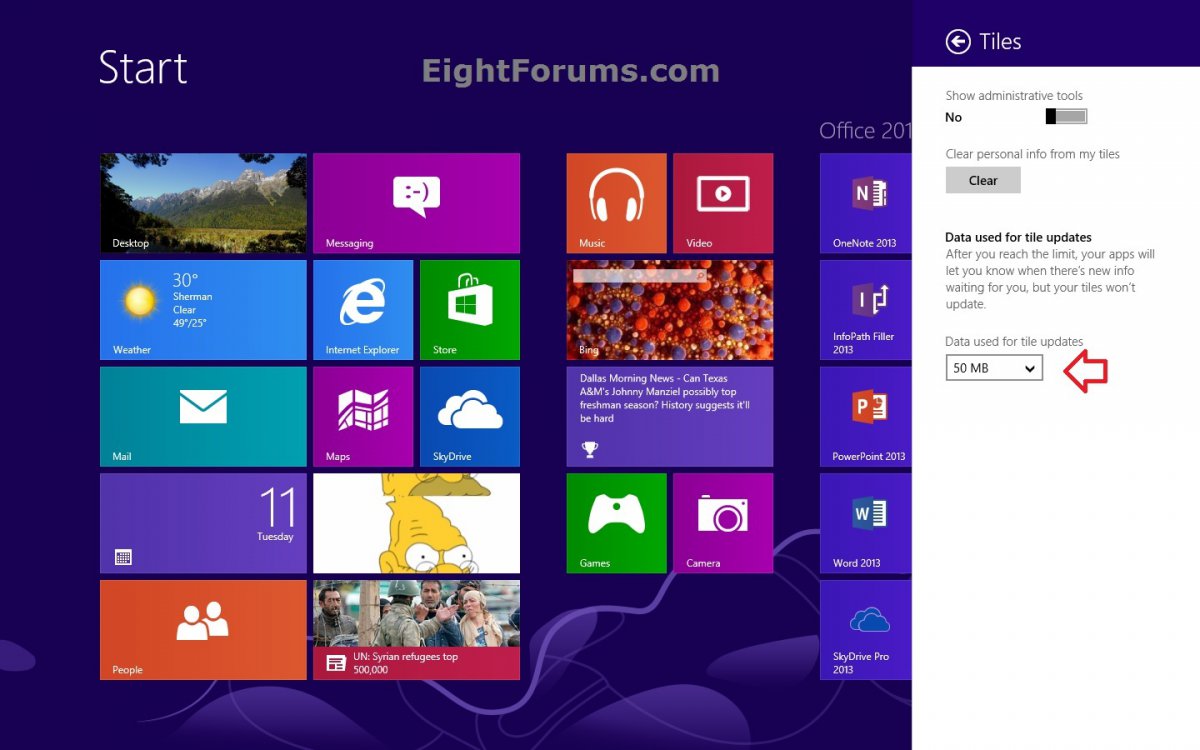 ​
​
4.
When finished, you can click/tap on an empty space on your Start screen to close the Tiles flyout.
That's it,
Shawn
Last edited: