Polyhedric Stellation
VIP Member
Pro User
Themes for 64bit GIMP on Windows.
It was wise to begin a new thread on this particular subject, following the interest from here:
I remember seeing those.

I haven't seen any since I moved to v2.8 (I'm now on v2.8.10).

I have noticed that it does slow down (the first time I start it) after adding some new fonts.

Subsequent starts seem to return to the ~5 second - ~10 second start times.

True, subsequent starts are faster. I'm also on 2.8.10. I use Single Window Mode.

A good thing I appreciate is that we now have normalmap plug-in in x64 Windows and I was able to (build and) get the Aurora theme running on x64 GIMP. Here you see Aurora Midnight on Windows 8 and it blows away even Photoshop.

View attachment 19157

That's nice.

I've never tried installing a theme in GIMP.

I've seen it mentioned in the "Settings" window, but I've never stumbled upon any GIMP themes during my Internet travels.

How would I go about getting and installing that theme (or others)?

Yes, of course, what else could it be. LOL

PS: subsequent starts of any program are always faster because at least some of it is cached in RAM and fetched from there.

I am aware of program caching.

I meant even when it couldn't be in the cache.

I suspect GIMP must update some sort of DB of plugins, fonts, etc. whenever it notices a new one.
The good news is that I've managed to get a total of 55 themes (!!!) on GIMP x64 running on my Win8.
That thanks to
Notecase Pro
that also uses gtk themes and is available for 64bit as well.
I did some theme tests in GIMP and all is nice:
Don't forget i'm running this on Win8x64. Works the same in XPx64, Vistax64, Win7x64 as well.
Aurora
Crux
Clearlooks and others on Windows!
For 32bit GIMP it was easier to get the files:
GIMPER.NET - The GIMP Community • View topic - Gimp Themes v1.0 for Windows
But for 64bit we don't have this but still, we can have themes and can those are to be selected manually.
The most complete 64bit GIMP (v. 2.8.14) I have is here:
link
.
This is one of
Partha's
builds but I've added the mentioned themes above + a few extras.
I hope the link works since that GIMP is already themed and has some useful extra plugins included.
To add themes to your own GIMP install (64bit) you will need to place some files in a few folders:
..\GIMP-2.8\lib\gtk-2.0\2.10.0\engines (here you add the theme engines: dll's found in previous links)
and
..\GIMP-2.8\share\themes (here you need the theme settings files, get them from
here
or the first two links)
Regarding the already-themed GIMP:
You can extract the zip and use the program. Placing it in Program Files means the same as installing (except you don't have context menu option only if you install the program first and then replace all files with the ones provided here.
How to change the theme: I've provided a folder called "about-gimp-themes" that illustrates all you need. The Program launcher is in "bin" folder so make shortcuts from there to launch. I'll also provide some info here below.
The difference with the normal version is that this has Aurora Midnight theme as default.
The other themes provided are these:

To use another one, change it (type the name of folder) here:
This is a file in you user folder created by gimp (in folder
.gimp-2.8
there is
gtkrc
) and is checked during the loading of program. Save it and restart GIMP to see the change.

To change the theme:
Edit -> Preferences -> Theme.
Then restart GIMP.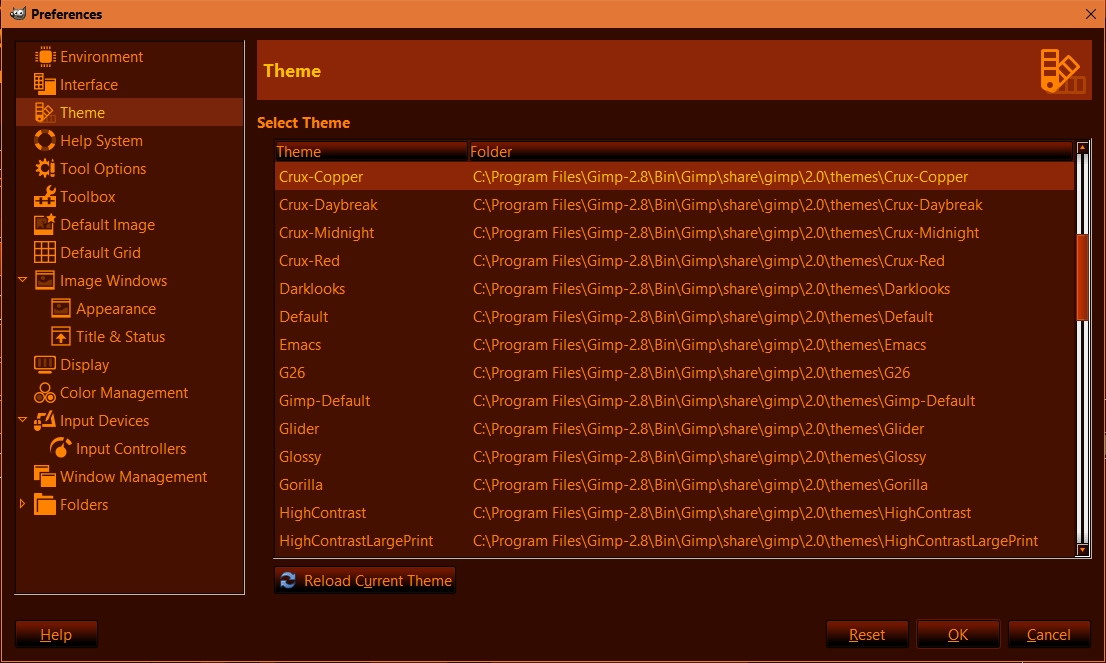 That's it.
I think this is covered, regarding the use of GIMP themes on Windows, especially x64 which isn't documented online for now.
EDIT: updated to 2.8.10 + added extra x64 plugins.
Fixed Skydrive link.
EDIT2: updated to 2.8.14 + added extra themes and plugins.
Last edited:
My Computer
OS

Windows 10 x64

Computer type

Laptop

System Manufacturer/Model

HP Envy DV6 7250

CPU

Intel i7-3630QM

Motherboard

HP, Intel HM77 Express Chipset

Memory

16GB

Graphics Card(s)

Intel HD4000 + Nvidia Geforce 630M

Sound Card

IDT HD Audio

Monitor(s) Displays

15.6' built-in + Samsung S22D300 + 17.3' LG Phillips

Screen Resolution

multiple resolutions

Hard Drives

Samsung SSD 250GB + Hitachi HDD 750GB

PSU

120W adapter

Case

small

Cooling

laptop cooling pad

Keyboard

Backlit built-in + big one in USB

Mouse

SteelSeries Sensei

Internet Speed

slow and steady

Browser

Chromium, Pale Moon, Firefox Developer Edition

Antivirus

Windows Defender

Other Info

That's basically it.