Windows 8.1 64 bit pc
48 GB Ram
Intel i7 – 3960X CPU
BoxxTech Computer
Drive C: SSD - 446 GB
If you require other configuration information, please let me know.
When I first got my new personal computer in January, I created a System Image using Microsoft's utility. I typically use Acronis for my backups, but after major changes, I use both Microsoft and Acronis.
Now, I am attempting to complete a System Image Backup using Microsoft's utility so that I can fix my SecureBoot concern, knowing that I have a safety net in place. Unfortunately, I am unable to complete a backup. BoxxTech suggests that I use Microsoft's utility.
I begin with the File History in the Control Panel as shown below. Note, that I have plenty of room on my FreeAgent F Drive (standalone USB drive). Yet, Microsoft's utility believes otherwise.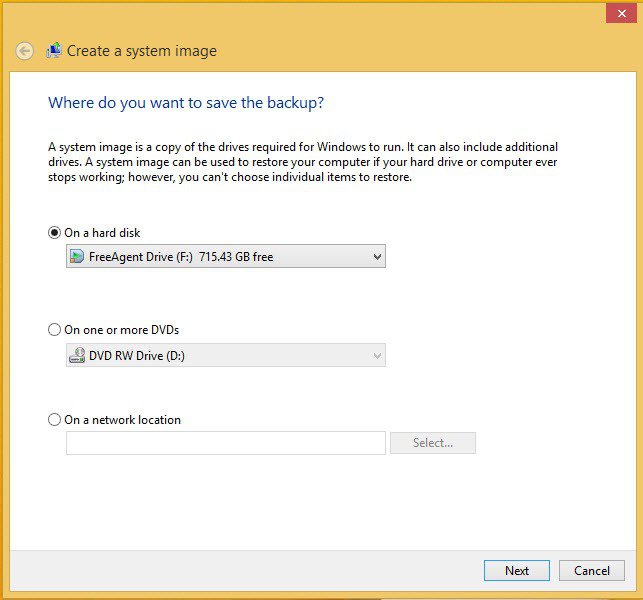 Only the three items that shown to be selected are selected. In other words, there are no other drives or partitions off-screen that are selected.
Thinking that it might be a problem with my external USB hard drive, I look at using one of my internal drives, T.
I get the same error message as shown earlier.
Does anyone know of why I am unable to back-up my personal computer using Windows 8.1?
Kevin
My Computer
OS

Windows 8.1 Pro - 64 bit

Computer type

PC/Desktop

System Manufacturer/Model

Boxx Technologies, Inc. 4920

CPU

Intel(R) Core(TM) i7-3960X CPU @ 3.30GHz

Motherboard

ASUSTeK COMPUTER INC. P9X79 WS (LGA2011)

Memory

48.0GB DDR3 @ 833MHz (11-11-11-28)

Graphics Card(s)

PA241W (1920x1200@59Hz) PA241W (1920x1200@59Hz) 2047MB NVIDIA Quadro 4000 (NVIDIA)

Sound Card

Realtek High Definition Audio NVIDIA High Definition Audio

Monitor(s) Displays

Two NEC Monitors PA241W on NVIDIA Quadro 4000

Screen Resolution

1920x1200 pixels

Hard Drives

- ATA INTEL SSDSC2CW48 SCSI Disk Device
- Two ATA ST32000645NS SCSI Disk Devices

Case

Boxx Technologies

Cooling

Water cooled

Keyboard

MS Natural Keyboard

Mouse

Logitech G502

Internet Speed

100 mps

Browser

IE 11, Forefox latest version, Chrome

Antivirus

Norton 360