Alright, so a while back, I had a nasty encounter with a virus which crippled my main PC, including deactivating my OEM license for Windows 8, as well as somehow forcing Windows Defender to be disabled.
Upon clearing out the virus, I had stumbled across a method for preventing Windows Defender from being disabled.
Screenshot: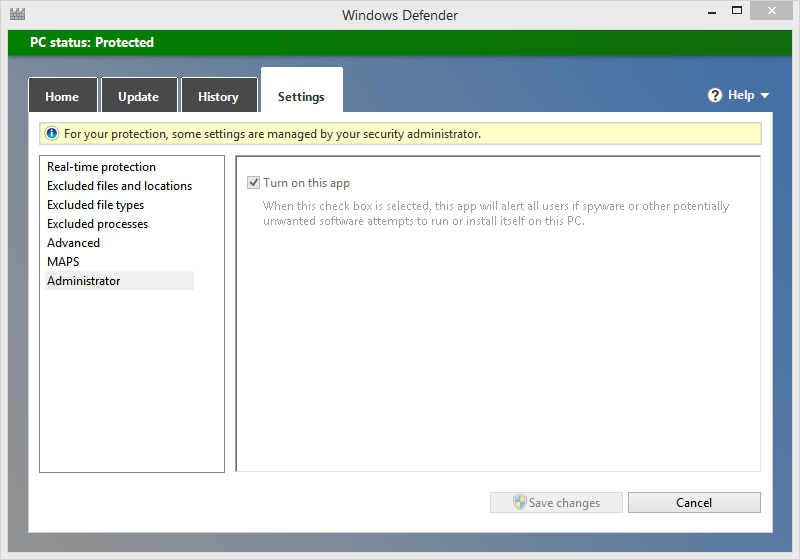 I'm not sure how I originally did this, but I would like to duplicate this action, because it improves the security of the computer by preventing Windows Defender from being disabled by a virus or other malicious program.
My Computers
OS

Windows 8.1 Pro Media Center x64

Computer type

PC/Desktop

CPU

AMD Athlon II X4 640 (Propus)

Motherboard

MSI MS-7388

Memory

4 DDR2 x2GB = 8GB Total

Graphics Card(s)

AMD Radeon R7 250x Pro Series

Sound Card

Motherboard Onboard

Monitor(s) Displays

Westinghouse Digital 22" LED TV

Screen Resolution

1920x1080

Hard Drives

465GB Western Digital WDC WD5000AAKB-00H8A0 ATA Device (ATA )
698GB Seagate ST3750640NA PATA Device (ATA )
931GB Western Digital WDCWD10EZEX-22MFCA0 (SATA )
931GB Seagate ST31000528AS SCSI Disk Device (SATA )
1397GB Seagate ST31500541AS SCSI Disk

PSU

Corsair CX750 Bronze PSU

Case

Antec 200

Cooling

(3) Corsair CF 120 & (1) Corsair CF140mm fans

Keyboard

Logitech Wireless SB 120 Media AIO Keyboard

Mouse

Logitech Wireless SB 120 Media AIO Mouse

Internet Speed

250 Mbps

Browser

Opera

Antivirus

Windows Defender

Other Info

System data courtesy of Speccy; Courtesy of Piriform Software.