How to Create a Custom Recovery Image to Use to Refresh Windows 8 and 8.1​

Information
This tutorial will show you how to create and register a
custom recovery image
to use instead of default when you
refresh
your
Windows 8
,
Windows RT
,
Windows 8.1
, and
Windows 8.1 RT
PC.
You must be logged in as an
administrator
to be able to do this tutorial.
Quoted from Microsoft:
Refreshing your PC to a state you define, including desktop apps
We know that many of you like to first configure your PC just the way you like it, by installing favorite desktop apps or removing apps that came with the PC, and then create an image of the hard drive before you start using the PC. This way, when you need to start over, you can just restore the image and you won't have to reinstall the apps from scratch.

With this in mind, we've made it possible for you to establish your own baseline image via a command-line tool (recimg.exe). So when you get a Windows 8 PC, you will be able to do the following:

Go through the Windows first-run experience to configure basic settings.
Install your favorite desktop apps (or uninstall things you don't want).
Configure the machine exactly as you would like it.
Use recimg.exe to capture and set your custom image of the system.

After you've created the custom image, whenever you refresh your PC, not only will you be able to keep your personal data, settings, and Metro style apps, but you can restore all the desktop apps in your custom image as well. And if you buy a PC that already comes with a recovery image on a hidden partition, you'll be able to use the tool to switch from using the hidden partition to instead use the custom image you've created.
Note
The
recimg.exe
command line tool lets you configure a custom recovery image for Windows 8 to use when you refresh your PC. When you create a custom recovery image, it will include the
desktop apps
you've installed and the Windows system files in their current state. Saved recovery images do not include your documents, personal settings, user profiles, or modern apps from the Store because that information will automatically be included by default at the time you refresh your PC. This way when you refresh your PC with the saved custom recovery image, it will save and include your
current
documents, personal settings, user profiles, and modern apps.
When you create a custom recovery image, recimg will store it in the specified directory, and set it as the active recovery image. If a custom recovery image is set as the active recovery image, Windows will use it when you refresh your PC. You can use the
/setcurrent
and
/deregister
options to select which recovery image Windows 8 will use. All recovery images have the filename
CustomRefresh.wim
. If no CustomRefresh.wim file is found in the active recovery image directory, Windows will fall back to the default image (or to installation media) when you refresh your PC.
Note that you cannot
reset
your PC using a custom recovery image. Custom recovery images can only be used to
refresh
your PC.
To Create and Register a Custom Recovery Image
​
​
2. In the elevated command prompt, copy and paste the command below, and press Enter. (see screenshot below step 3)​
​
NOTE: If you like, you can subsititute the C drive letter in the command below for the drive letter of the location that you would like to keep the CustomRefresh.wim recovery image file at instead.​
​
recimg -CreateImage

C

:\RefreshImage

​
​

Tip
If needed, you can press the ESC key at anytime to cancel creating this custom refresh image.
​
3. When finished, this new custom recovery image of your current Windows 8 setup will now be set (registered) as the current active recovery image used whenever you refresh Windows 8 next in STEP TWO below.​
​
NOTE: It may take a bit to finish creating your custom recovery image. At the Writing image line the progress stays at 1% for a bit and then increases slowly until finished at 100%.​
​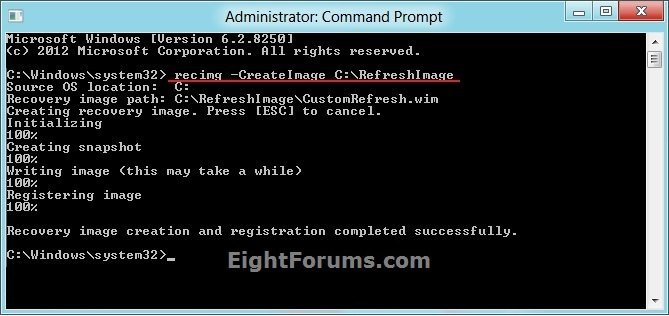 ​
​
​

Tip
You can create multiple or new recovery images every so often to have an updated version handy if you should need to refresh your PC with.

Whenever you create a new recovery image, the new image will be used instead by default afterwards since it will be the latest registered (set) active recovery image.

Note
To Refresh Windows 8 with the Custom Recovery Image
​
1. If you have not already, you must have already previously created and registered a custom recovery image using STEP ONE first to use to do the refresh with.​
​
2. You can now use either option in the tutorial below to refresh Windows 8 like you would normally do so, but your custom system image will now be used to refresh Windows 8 with instead.​
​
That's it,
Shawn
Last edited: