How to Add or Remove "Hibernate after" in Power Options in Windows​

Information
Hibernation
is a power-saving state designed primarily for laptops. While sleep puts your work and settings in memory and draws a small amount of power, hibernation puts your open documents and programs on your hard disk, and then turns off your computer. Of all the power-saving states in Windows, hibernation uses the least amount of power. On a laptop, use hibernation when you know that you won't use your laptop for an extended period and won't have an opportunity to charge the battery during that time.
The
Hibernate after
power option allows users to specify how long in minutes the computer is inactive when on battery or plugged in before automatically hibernating.
This tutorial will show you how to add or remove the
"Hibernate after"
setting under
Sleep
in
Power Options
for all users in
Vista
,
Windows 7
, and
Windows 8
.
You must be signed in as an
administrator
to be able to do the steps in this tutorial.
Note

This could be handy if you wanted to set this how you wanted, then remove the setting to prevent other users from being able to change it in Power Options.



EXAMPLE:

"Hibernate after" in Power Options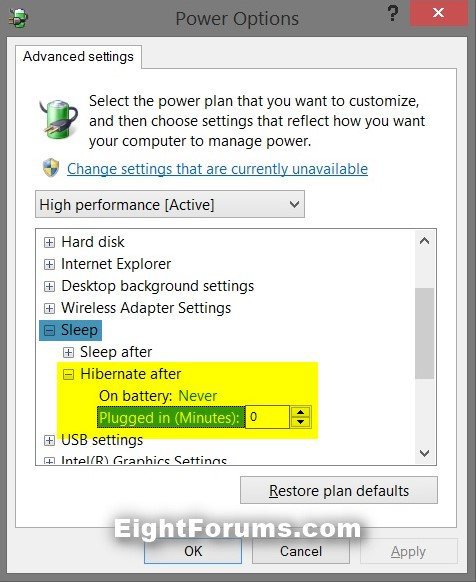 Here's How:
Note
The .reg files below are for the registry key and value below.

HKEY_LOCAL_MACHINE\SYSTEM\CurrentControlSet\Control\Power\PowerSettings\238C9FA8-0AAD-41ED-83F4-97BE242C8F20\9d7815a6-7ee4-497e-8888-515a05f02364

Attributes DWORD

1 = Remove
2 = Add


1.
Do
step 2 or 3
below for what you would like to do.
2.
To Remove "Hibernate after" from Power Options
​
A) Click/tap on the Download button below to download the file below, and go to step 4 below.​
​
Remove_Hibernate_after_Power_Option.reg​
​

​
3.
To Add "Hibernate after" to Power Options
NOTE:
This is the default setting
.
​
​
B) Click/tap on the Download button below to download the file below, and go to step 4 below.​
​
Add_Hibernate_after_Power_Option.reg​
​

​
4.
Save the .reg file to your desktop.
5.
Double click/tap on the downloaded .reg file to merge it.
6.
If prompted, click/tap on
Run
,
Yes
(UAC Windows 7/8) or
Continue
(UAC Vista),
Yes
, and
OK
to approve the merge.
7.
When finished, you can delete the downloaded .reg file if you like.
That's it,
Shawn
Last edited by a moderator: