How to Add or Remove "Allow Away Mode Policy" in Power Options in Windows​

Information
Away Mode
in Windows is similar to Sleep and Hibernate Mode, it turns off the power of most equipment to save energy and can be fast woken up. Away Mode is designed to enable media PC scenarios that include background media sharing and recording. When the computer is in Away Mode, the system appears off to the user—the display is off and audio is muted. However, the PC remains in the on state and otherwise fully operational, allowing background tasks to continue.
Away Mode is designed specifically for scenarios where the user is done interacting with the computer, but the system must remain powered on to record a TV broadcast or share media files with other systems and devices. For example, the system might be providing access to Windows Media Center Extender or other consumer electronics devices and therefore must remain available even though the user is not interacting with the system at the local console. Away Mode enables a living room media PC to respond to a user's power on-off requests in the same manner as a television or set-top box that might appear off, but actually continues working.
This tutorial will show you how to add or remove the
"Allow Away Mode Policy"
setting under
Sleep
in
Power Options
for all users in
Vista
,
Windows 7
, and
Windows 8
.
You must be signed in as an
administrator
to be able to do the steps in this tutorial.
Note
This could be handy if you wanted to set this how you wanted, then remove the setting to prevent other users from being able to change it in Power Options.
The
Allow Away Mode Policy
setting will enable or disable Away Mode for users using the same power plan scheme this was set in.
An example of an Away Mode setting, is the
Allow the computer to enter Away Mode
for
When sharing media
in your power plan scheme "Power Options".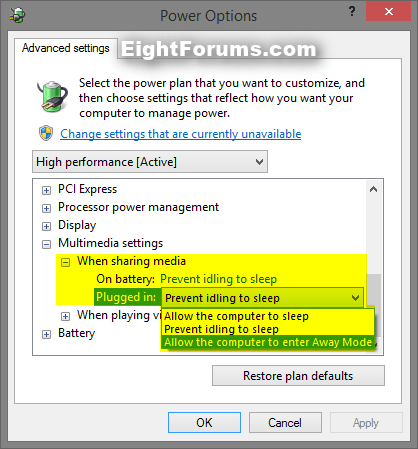 EXAMPLE:

"Allow Away Mode Policy" in Power Options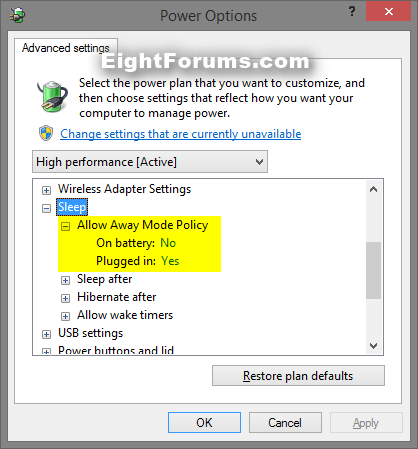 Here's How:
Note
The .reg files below are for the registry key and value below.

HKEY_LOCAL_MACHINE\SYSTEM\CurrentControlSet\Control\Power\PowerSettings\238C9FA8-0AAD-41ED-83F4-97BE242C8F20\25DFA149-5DD1-4736-B5AB-E8A37B5B8187

Attributes DWORD

1 = Remove
2 = Add


1.
Do
step 2 or 3
below for what you would like to do.
2.
To Remove "Allow Away Mode Policy" from Power Options
NOTE:
This is the default setting
.
​
A) Click/tap on the Download button below to download the file below, and go to step 4 below.​
​
Remove_Allow_Away_Mode_Policy.reg​
​

​
3.
To Add "Allow Away Mode Policy" to Power Options
​
A) Click/tap on the Download button below to download the file below, and go to step 4 below.​
​
Add_Allow_Away_Mode_Policy.reg​
​

​
4.
Save the .reg file to your desktop.
5.
Double click/tap on the downloaded .reg file to merge it.
6.
If prompted, click/tap on
Run
,
Yes
(UAC Windows 7/8) or
Continue
(UAC Vista),
Yes
, and
OK
to approve the merge.
7.
When finished, you can delete the downloaded .reg file if you like.
8.
Boot to and check your
BIOS
settings to see if it may have an
Away Mode
setting that needs to be enabled or disabled as well, then exit BIOS with saving the changes. (see screenshot below)
Note
Please read your computer's or motherboard's manual for this step.

This step will vary per computer/motherboard on how to boot to BIOS (setup), and if and where the Away Mode setting is.


​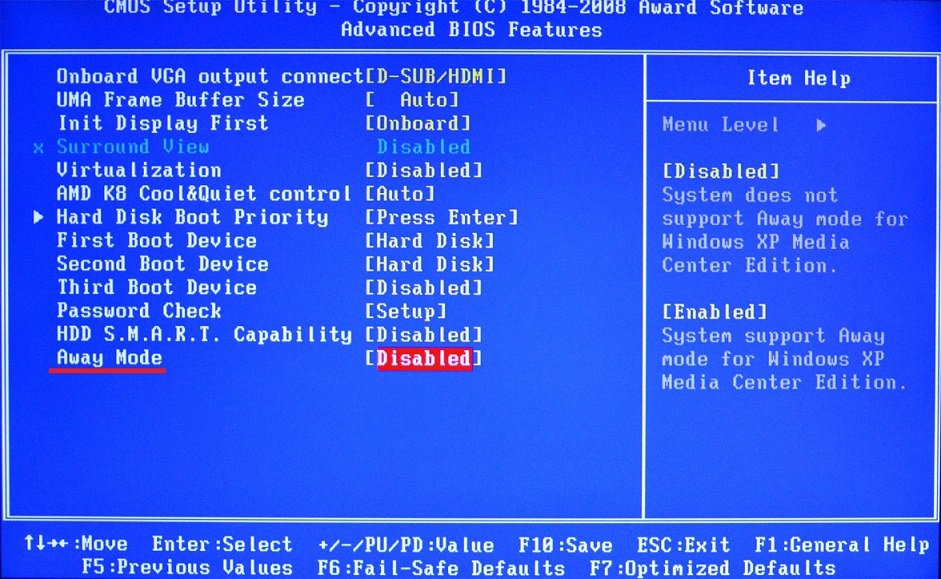 ​
That's it,
Shawn
Last edited by a moderator: