This is about power management. I have not found a forum so I put it in the General Discussion.
When I installed Windows 8, I had no issues with power management whatsoever. Shortly after that I could not sleep, hibernate or shutdown my laptop computer.
I have since fixed the
shutdown issue
which turned out to be related to the graphics driver.
Still no hibernate mode. The system would just turn off the screen but not do anything otherwise.
I noticed the error 45 of volmgr in the event log.
The system could not sucessfully load the crash dump driver.
A Google search led me to the solution.
Windows wouldn't hibernate with Error Event ID 45: volmgr
While the above link is for Windows 7, I can confirm that it still works (or rather the issue still exists) in Windows 8.
Prior to Windows 8, I had a Windows 7 installation running on the laptop. And I had Truecrypt encryption for the entire harddisk (including the Truecrypt bootloader).
I used the Easy Transfer tool to transfer my data to Windows 8 and it put a Truecrypt registry entry in the Windows 8 registry: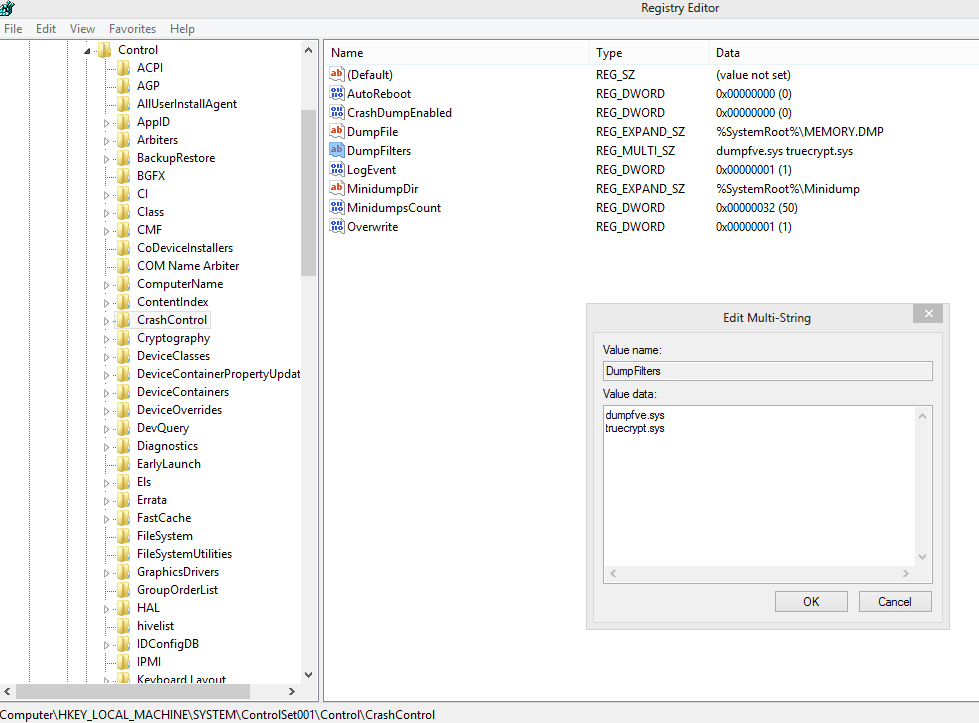 I found an entry for Truecrypt.sys in DumpFilters located in
HKLM\SYSTEM\CurrentControlSet\Control\CrashControl
This caused the "The system could not sucessfully load the crash dump driver." error.
Although I had reinstalled Truecrypt in Windows 8, the harddisk is not yet encrypted. The solution is to remove the Truecrypt.sys from the registry entry.
After a restart the hibernation mode works again!
Source
Windows wouldn't hibernate with Error Event ID 45: volmgr
Related
MSDN Tech Center Hardware: Crash Dump Filter Drivers
My Computer
OS

Windows 8.1 Pro x64 (6.3.9600)

Computer type

Laptop

System Manufacturer/Model

HP Pavilion Ultrabook 14-b083eg

CPU

Intel® Core™ i3-3217U

Memory

8 GB DDR3 (2 x 4 GB modules)

Graphics Card(s)

Intel® HD Graphics 4000

Sound Card

IDT High-Definition (HD) Audio

Monitor(s) Displays

35.5 cm (14") HD BrightView LED-backlit (1366 x 768)

Screen Resolution

1366x768

Hard Drives

Kingston SSDNow V300 120 - SV300S37A120G (Firmware 505ABBF1)

Mouse

Microsoft Wireless Mobile Mouse 1000

Internet Speed

Broadband

Browser

Microsoft Internet Explorer 11

Antivirus

avast! Free Antivirus 2014

Other Info

System BIOS Version F.1B (Aug 23, 2013)