Hi all, I don't know if this is the right section for my question, if it isn't I apologize in advance.
The problem is that I can't install the .NET Framework 3.5 on my Windows 8.1 because when i try to install it, appears:


"Can't install the following feature:
.NET Framework 3.5

Can't find the specified file
Error: 0x80070002"

The same if i download the dotNetFx35setup.exe setup from Microsoft Website.
I tried also in other 2 ways suggested here (Installazione di .NET Framework 3.5 in Windows 8) :
- In Control Panel -> Programs -> Enable or disable Windows Features -> .NET Framework 3.5 but i receive the same error
- I insert Windows 8 DVD in the D:\ Unit and i type in the prompt command this code:
Code:
 [COLOR=#006400][FONT=Consolas]DISM /Online /Enable-Feature /FeatureName:NetFx3 /All /LimitAccess /Source:d:\sources\sxs [/FONT][/COLOR]
But i receive this error: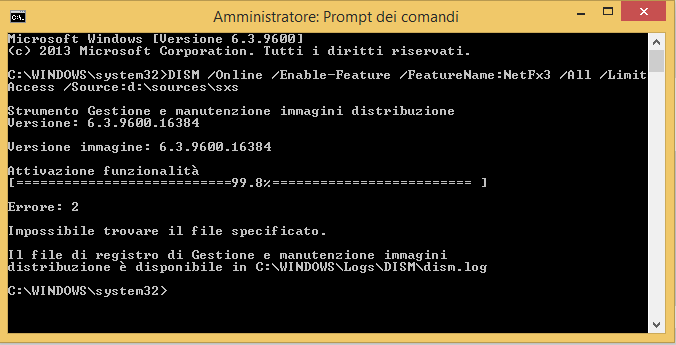 "Features Activation: 99.8%
Error: 2
Can't find the specified file"


Can you help me? Thanks in advance!
My Computer