Hi.
A while back, a friend of mine partitioned my hard drive and added in a virtual machine for Windows Vista, which was 100 GB in size. This was fine at the time, however now my Windows 8 seems to be randomly shrinking. Over the past few weeks I've lost about 100 GB and I can't understand why. I'm still actively investigating, but I'm now down to 39 GB free of over 400 and to tide me over until I can find out what's happened (and why) I want to remove 50 Gb of my Windows Vista and add it to my Windows 8.
This sounds like a really easy thing to do, but... the problem is that they are on two completely separate hard disks. Disk 1 contains Vista and Disk 0 contains the rest. I do have another couple of questions about removing certain unnecessary partitions on Disk 0, but I'll wait until I get this solved first.
To start with, I shrunk my Vista down by 50 GB, and then I attempted to simply move it across to the C drive. But it wasn't until then I realised that that it wasn't going to be as easy as just merging partitions or even just 'extending' my C drive.
I have also downloaded
this tool
which has helped me understand slightly more what's going wrong, but I'm still struggling to understand how it can be done. I've searched and have been unable to find any kind of answer on this; people either seem to give up or it isn't related to my issue. I'm not sure how well I've explained this, so I'll also attach a screenshot of the Windows partition manager so you can see what exactly I'm talking about. When it comes to the more hardware side of things, I'm not exactly the best person, but I would really appreciate any help I could get on this.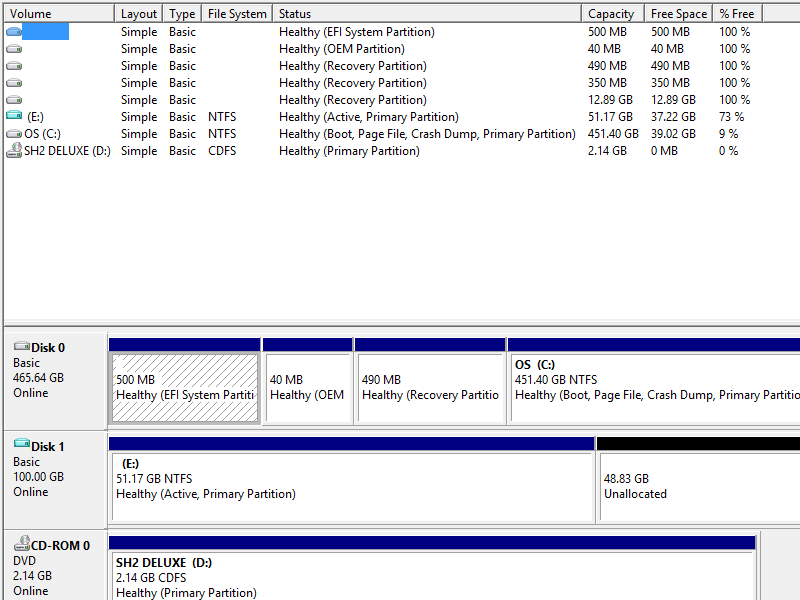 My Computer
OS

Windows 8.1 Pro 64-bit

Computer type

Laptop

System Manufacturer/Model

Acer

CPU

2.90 Ghz

Memory

8 GB DDR3

Internet Speed

Really bad

Browser

Internet Explorer 11

Antivirus

Malware Bytes Pro/Microsoft Defender