I've used Minitool Partition Wizard for a while without any problems. I've just upgraded to version 9.1 in Windows 8.1 Pro x64.
I'm trying to reduce the size of a 2TB NTFS formatted user hard disk by 500MB and create another partition in the 500MB free space.
I've set Partition Wizard to reduce the size of the main partition to leave 500MB at the end of the drive. When I click Apply, I get the enclosed error. I've scanned the disk with the Partition Wizard error checker and chkdsk but this finds no errors.
What does the error mean and how do I proceed from here?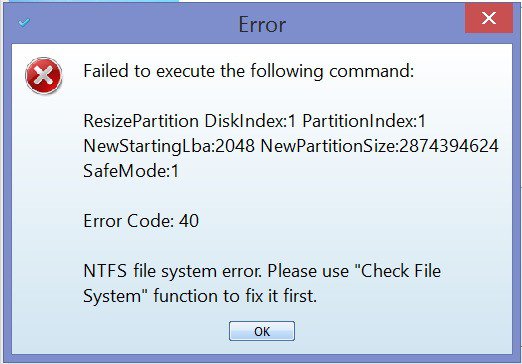 My Computer
OS

Windows 8.1 64 bit

Computer type

PC/Desktop

System Manufacturer/Model

Home Build

CPU

Intel i3570K

Motherboard

Gigabyte GA-77X-UD5H

Memory

16 GB

Graphics Card(s)

Sapphire R9 280X Toxic

Sound Card

Realtek on motherboard

Monitor(s) Displays

Viewsonic VP2770

Screen Resolution

2560 x 1440

Hard Drives

Intel 520 180GB SSD
Seagate 2T HDD
Seagate external 1T USB HDD

PSU

XFX 850W

Case

Nanoxia Deep Silence 1

Cooling

Noctua NH-D14

Keyboard

Microsoft

Mouse

Microsoft

Internet Speed

50Mbps

Browser

Chrome