How to Set up or Replace your Microsoft Account Recovery Code​

Information
Microsoft has added the ability to create a secure
recovery code
, which can be used to regain access to your
Microsoft account
if you lose access to your other security information. For example, if a hacker breaks into your account and starts making changes, or if you lose the phone on which you normally receive validation codes to sign in.
If you have enabled
two-step verification
, it requires two verified pieces of security information, like a phone number and email address, it will be a rare occasion when both options fail, but in the event they do, you can use your recovery code to regain access to your Microsoft account.
Anybody can add a recovery code to their Microsoft account (even if you don't turn on two-step verification). Your recovery code is like a spare key to your house – so make sure you store it in a safe place.
You can only request one recovery code at a time; requesting a new code cancels the old one.
For more details about recent activity, see:
This tutorial will show you how to set up or replace your
recovery code
to use to regain access to your
Microsoft account
if something goes wrong when verifying your account with validation codes from your other security info.

Warning

Your recovery code is only helpful if you've printed it or written it down somewhere safe, separate from your PC or device, before there's a problem.



EXAMPLE:

Using Recovery Code to Verify your Microsoft Account NOTE:

If

you use the recovery code, it will reset and clear the security info for your Microsoft account. You would then need to update and replace your security info afterwards. This would be for your added app passwords, phone numbers, alternate email address, etc....

​
​
​
​
Here's How:
1.
Click/tap on the Microsoft link below to sign in to your Microsoft account online
Security info
page from any PC.
​
2.
Under
Recovery Code
, click/tap on
Set up
or
Replace
depending on if you have already setup your recovery code or not. (see screenshots below)
​
​
​
​
3.
You should now print or write down, and store your recover code in a safe place. (see screenshot below)
NOTE:
If you ever need to enter your recovery code to verify your Microsoft account, be sure to enter it exactly as is below with the dashes included
.
​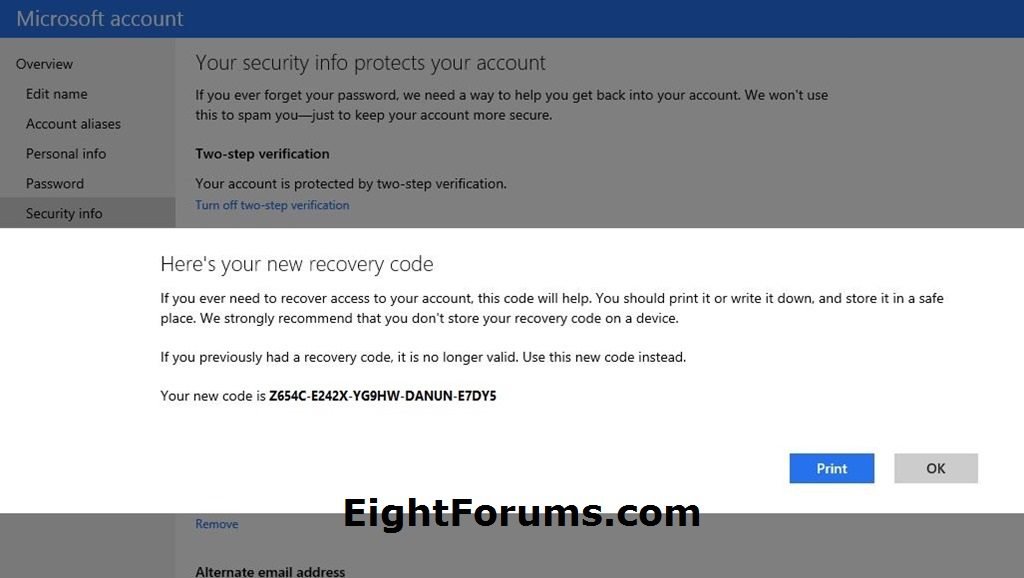 ​
That's it,
Shawn
Last edited: