don't know if anyone can help but about a month ago I wanted to install media center on my windows 8, so went to add new features, paid for a license key, the payment went through fine, accepted the terms then get the error message "something went wrong, close the wizard and try again later"
I kept retrying the install over the next few days with the same error. I did not have a lot of time to troubleshoot the problem and just wanted a refund for the product I never received which Microsoft did after phoning them and agreeing to a electronic destruction letter.
Forward to today I would like to try installing media center again but when I go to the "add new features" section the first window that comes up is this
and I want to get back to this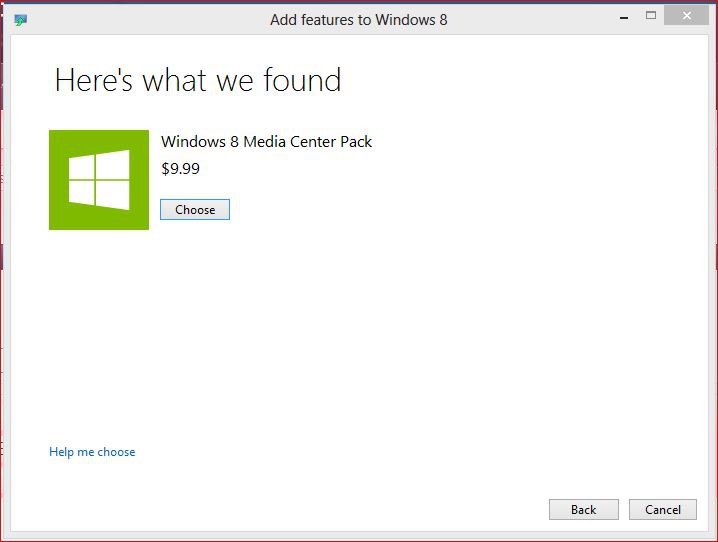 So how do I reset this add new features section without having the hassle of reinstalling windows?
appreciate any help.
My Computer
OS

windows 8.1 Pro

Computer type

PC/Desktop

CPU

Intel 3770K i7 Ivy Bridge oc 4.5 GHz

Motherboard

Asus P8Z77 Premium

Memory

32GB Corsair Platinum

Graphics Card(s)

Nvidia GTX 780

Hard Drives

Crucial 512GB SSD
2x 3TB Seagate

PSU

Corsair HX850

Case

Corsair White Graphite 600T

Cooling

Corsair H80i

Keyboard

Roccat Isku

Mouse

Roccat Kone XTD