Hi to all Eight forum.
I installed and Play Max Payne 3 when I using windows 7. on installing win 8 64bits mp3 did not start as it should be. so I do some steps then the game is working know, these are the steps for those who did not yet able to start mp3 on 8.
1. install
steam
2. install
ms game live
3. install
Rockstar social club
4. copy Rockstar games folder which is located on previous windows document folder. (anyone not so stupid that he will not save this folder before clean installing windows)
5. rename mp3 folder to MaxPayne3. (remove the space between Max and payne)
6. go to regedit and this entry
HKEY_LOCAL_MACHINE\SOFTWARE\Wow6432Node\Rockstar Games\Rockstar games
now right click on "installfolder" entry on left hand pane. and click modify. and change the location of rockstar games to actual game folder where you installed it.
in my case: the path is this: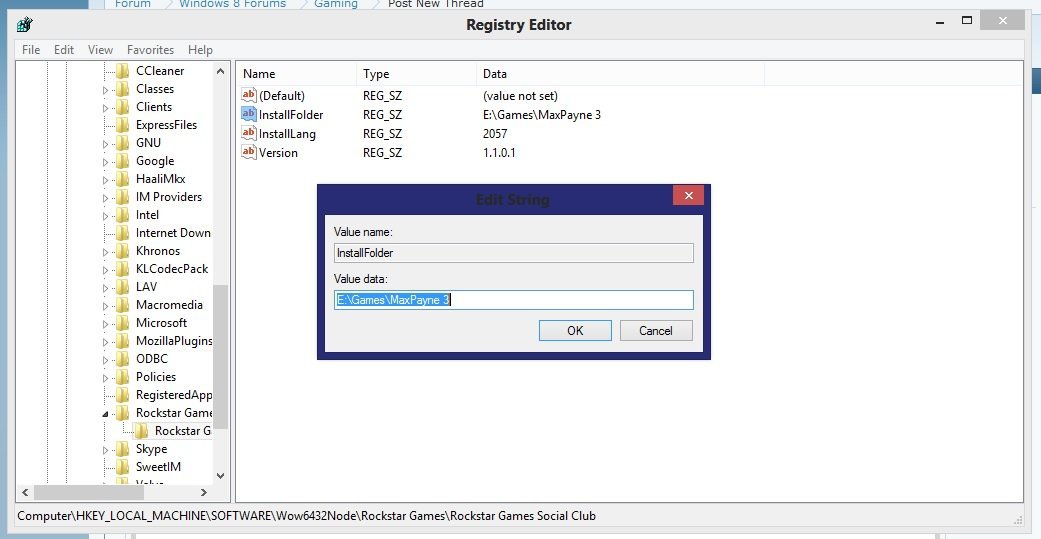 ​
then game must be working.
now my question is I m facing no sound only on mp3 cinematics. other gameplay sound are comes.
any suggestion would be very appreciated.
My Computer
OS

Windows 8 64 bits Pro with Media Center

Computer type

Laptop

System Manufacturer/Model

Dell Inspiron N4050

CPU

2.1 Ghz Intel mobile 950

Motherboard

Dell 02JCHC

Memory

4gb (2x2gb) DDR3 1333

Graphics Card(s)

Intel(R) HD Graphics Family

Screen Resolution

1366x768

Internet Speed

4mbps