How to View Internet Explorer History of Visited Websites​

Information
This tutorial will show you how to view the history of websites visited by you or all users in Internet Explorer.


View Internet Explorer History in Favorites Center
NOTE:
This option will only let you view the IE history of the user you are signed in to
.
​
1. In Internet Explorer (desktop version in Windows 8), do step 2, 3, or 4 below for what you would like to do.​
​
2. Press the CTRL+H (right side) OR CTRL+Shift+H (left side) keys, and go to step 5 below.​
​
3. Click/tap on View (Alt+V) on Menu bar, Explorer bars, History, and go to step 5 below. (see screenshot below)​
​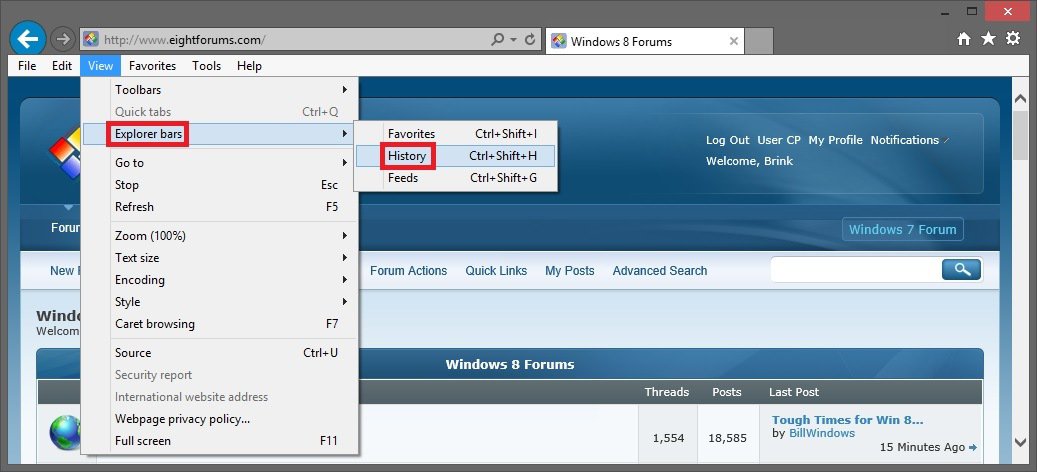 ​
​
​
5. From here, you can expand the date and website to see the webpages (URL addresses) visited on that website for that date. (see screenshots below)​
​
​
​
​
​
​
View Internet Explorer History in History Folder
Note
This option will let you view only your IE history in the History folder in File Explorer. You will not be able to open and view the History folder of another user, even if signed in as an administrator.


​
1. In File Explorer (Windows 8) or Windows Explorer (Vista and Windows 7), copy and paste either location below into the address bar, and press Enter.​
​
shell:history​
​
​
%LocalAppData%\Microsoft\Windows\History​
​
2. Click/tap on a date you want to open and view the IE history by. (see screenshot below)​
​
​
​
3. From here, you can click/tap on a visited website to open and see the webpages (URL addresses) visited on that website for that date. (see screenshots below)​
​
​
That's it,
Shawn
Last edited by a moderator: