I just installed Windows 8.1 in a virtual machine and I can't seem to get rid of this annoyance (see "Switch between apps" and the orange arrow on the left):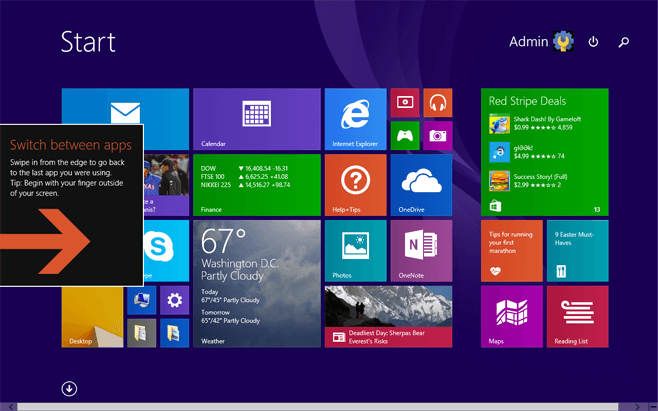 I am not on a tablet and can't swipe from the side. All I can do is click on it but it comes right back and obscures my view. Worst of all, if I log off and log back in it pops right back up.
How to get rid of it?
My Computer
OS

Windows 8.1 Pro

Computer type

PC/Desktop

System Manufacturer/Model

Dell XPS 8700 (customized)

CPU

Intel(R) Core(TM) i7-4770 CPU @ 3.40GHz

Motherboard

Intel Z87

Memory

32 GB

Graphics Card(s)

Haswell on-board, 2 GB VDRAM

Sound Card

Haswell on-board

Monitor(s) Displays

Acer / DVI

Screen Resolution

1680x1050

Hard Drives

C: Mushkin Scorpion PCle SSD, 222 GB
D: Samsung SSD 840-series, 238 GB
E: Samsung SSD 840 eVo, 500 GB
F: WD (Red) HDD, 2 TB

PSU

Dell standard

Case

Dell standard

Cooling

Dell standard

Keyboard

Logitech K120

Mouse

Infrared wired mouse from Microsoft

Internet Speed

Comcast DSL

Browser

Google Chrome, Mozilla Firefox, IE

Antivirus

Windows 8 built-in