I have a 4 monitor setup for my desktop. 3 screens are ACERs which show colors nicely. But one is AOC, which generally shows all colors but for some programs like Photoshop and Windows Photo Viewer it displays this ugly yellow color instead of white.
So I went into CP -> Color Management and tried to adjust it, but for some reason "Add" or "Remove" buttons are grayed out: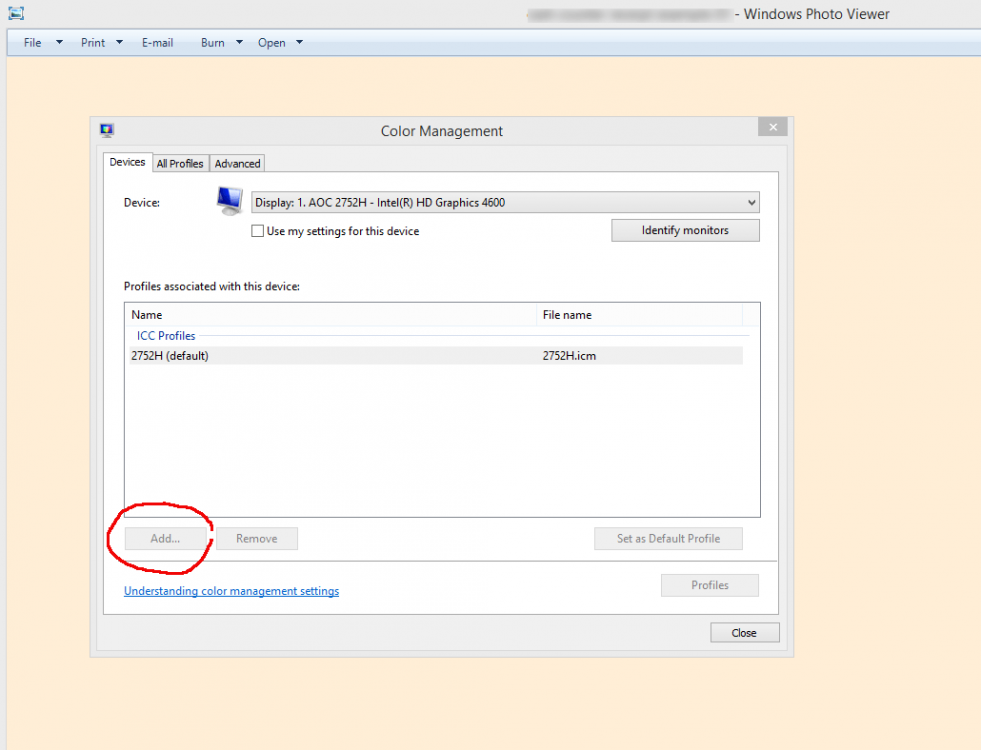 (Even if I log in as administrator.)
Any idea why?
My Computer
OS

Windows 8.1 Pro

Computer type

PC/Desktop

System Manufacturer/Model

Dell XPS 8700 (customized)

CPU

Intel(R) Core(TM) i7-4770 CPU @ 3.40GHz

Motherboard

Intel Z87

Memory

32 GB

Graphics Card(s)

Haswell on-board, 2 GB VDRAM

Sound Card

Haswell on-board

Monitor(s) Displays

Acer / DVI

Screen Resolution

1680x1050

Hard Drives

C: Mushkin Scorpion PCle SSD, 222 GB
D: Samsung SSD 840-series, 238 GB
E: Samsung SSD 840 eVo, 500 GB
F: WD (Red) HDD, 2 TB

PSU

Dell standard

Case

Dell standard

Cooling

Dell standard

Keyboard

Logitech K120

Mouse

Infrared wired mouse from Microsoft

Internet Speed

Comcast DSL

Browser

Google Chrome, Mozilla Firefox, IE

Antivirus

Windows 8 built-in