How to Fix Google Search and Google+ Notifications Not Loading Properly in Internet Explorer 11 (IE11)​

Information
The issue was that Google's search engine has somehow been added to the
Microsoft compatibility lists
for IE11. This causes the
Google Search
page to load in legacy mode, and not displaying properly in IE11.
Now it appears that your
Google+ notifications
will not load on the
Google Search
page unless you turn off using
Microsoft compatibility lists
for IE11 as well.
In
Windows 8.1
, this is happening in both modern and desktop IE11 views.
UPDATE:
(October 21st 2013)
[DEL]Microsoft has fixed the issue with Google Search results not rendering properly, but your
Google+ notifications
still do not load on the Google Search page.[/DEL]
It appears Google made some changes to its search engine that temporarily impacted the way search results rendered for some browsers. We have already made the necessary adjustments to ensure customers using Internet Explorer are not impacted.
:thumb: UPDATE:

(October 23rd 2013)

Microsoft has now fixed these issues by removing Google services from the compatibility lists.

If you still are having the

Google Search rendering

or

Google+ notifications

issue in Internet Explorer 11 (IE11), then this tutorial will show you a workaround to fix it so that they will load properly again in IE11.

EXAMPLE:

Google Search not rendering properly in IE11

​
​

EXAMPLE:

Google+ Notifications on Google Search page do not load in IE11

​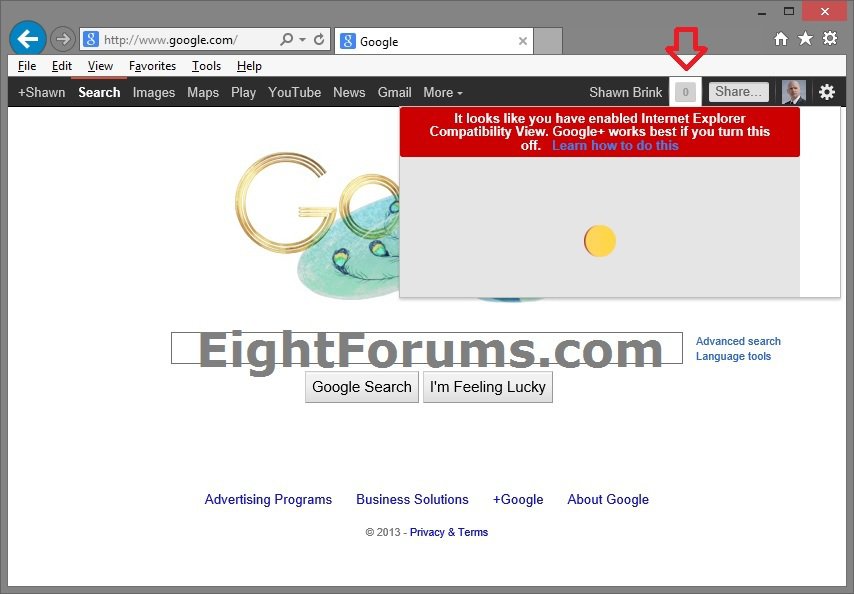 ​
Here's How:
1.
While in
Internet Explorer 11
(desktop view), either press the
Alt+X
keys or click/tap on the
Tools

button, then click/tap on
Compatibility View settings
. (see screenshot below)
​
​
2.
Uncheck the
Use Microsoft compatibility lists
box, and click/tap on
Close
. (see screenshot below)
​
​
3.
The Google Search page will now automatically refresh (F5), and should now display properly again in IE11. (see screenshot below)
​
​
That's it,
Shawn
Last edited: