Administrator
Administrator
mvp

Enhanced Mitigation Experience Toolkit (EMET)

5.5.2



Date Published:
November 4th 2016
File Name:
EMET Setup.msi
File Size:
25.6 MB
Release notes:
User Guide for EMET 5.52


Information
The
Enhanced Mitigation Experience Toolkit (EMET)
is designed to help customers with their defense in depth strategies against cyberattacks, by helping detect and block exploitation techniques that are commonly used to exploit memory corruption vulnerabilities. EMET anticipates the most common actions and techniques adversaries might use in compromising a computer, and helps protect by diverting, terminating, blocking, and invalidating those actions and techniques. EMET helps protect your computer systems even before new and undiscovered threats are formally addressed by security updates and antimalware software. EMET benefits enterprises and all computer users by helping to protect against security threats and breaches that can disrupt businesses and daily lives.
Note
Supported Operating Systems
Windows 10 , Windows 7 Service Pack 1, Windows 8.1, Windows Server 2008 R2 SP1, Windows Server 2008 Service Pack 2, Windows Server 2012, Windows Server 2012 R2, Windows Vista Service Pack 2 )

- EMET 5.52 requires .NET Framework 4.5.
- For Internet Explorer 10 on Windows 8 you need to install KB2790907 – a mandatory Application Compatibility update that has been released on March 12th, 2013 or any other Application Compatibility updates for Windows 8 after that.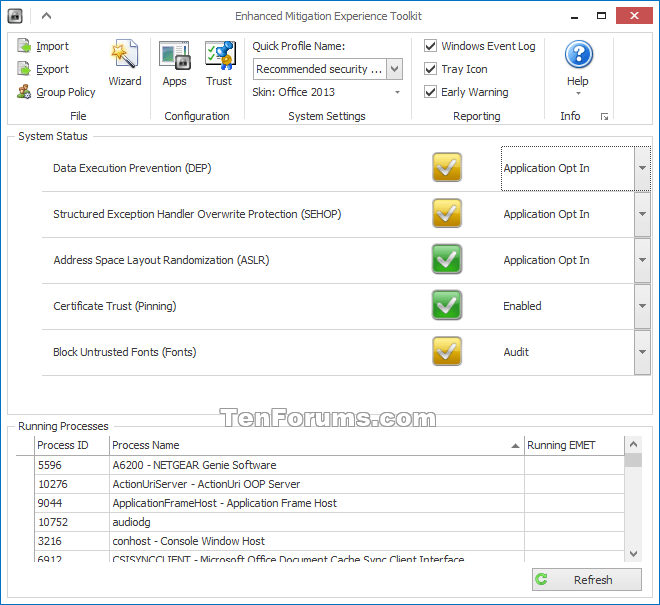 Last edited:
My Computer
OS

64-bit Windows 10

Computer type

PC/Desktop

System Manufacturer/Model

Custom self built

CPU

Intel i7-8700K OC'd to 5 GHz

Motherboard

ASUS ROG Maximus XI Formula Z390

Memory

64 GB (4x16GB) G.SKILL TridentZ RGB DDR4 3600 MHz (F4-3600C18D-32GTZR)

Graphics Card(s)

ASUS ROG-STRIX-GTX1080TI-O11G-GAMING

Sound Card

Integrated Digital Audio (S/PDIF)

Monitor(s) Displays

2 x Samsung Odyssey G7 27"

Screen Resolution

2560x1440

Hard Drives

1TB Samsung 990 PRO M.2,
1TB Samsung 980 PRO M.2,
6TB WD Black WD6001FZWX
8TB WD MyCloudEX2Ultra NAS

PSU

OCZ Series Gold OCZZ1000M 1000W

Case

Thermaltake Core P3

Cooling

Corsair Hydro H115i

Keyboard

Logitech wireless K800

Mouse

Logitech MX Master 3

Internet Speed

1 Gb/s Download and 35 Mb/s Upload

Browser

Internet Explorer 11

Antivirus

Malwarebyte Anti-Malware Premium

Other Info

Logitech Z625 speaker system,
Logitech BRIO 4K Pro webcam,
HP Color LaserJet Pro MFP M477fdn,
APC SMART-UPS RT 1000 XL - SURT1000XLI,
Galaxy S23 Plus phone