Hi,
I've got this Dell tablet and it's touch screen has gone kaput. It works sometimes, it doesn't most of the times. It has gotten worse in the last few days. It only used to do that when resuming from Standby previously.
[video=youtube;E45yOcwGFpk]https://www.youtube.com/watch?v=E45yOcwGFpk[/video]
There is nothing I can do about it from my end. I have contacts Dell support and it seems they will take it back for repairs.
In the meantime, my recovery partition seems to be not working either. I first wanted to factory reset it to see if it is a software issue. (Easier to RMA as well) Dell has their own recovery software called Dell Backup and Recovery and it doesn't work. It would reboot back to Windows 8's recovery environment (F8 anyone?) and wait there. I have used Recovery once and maybe it screwed up everything. I don't know.
I tried Windows's Refresh and Recovery features and they don't work either. Refresh asks me to insert the media .
Recovery tells me that i cannot find a recovery image in my drive.
I have used Refresh many times when the touch screen problem originally appeared, and then it didn't ask for the install media. Seems that it was using the recovery image that was originally in the drive.
Now the recovery image is either missing or inaccessble by any sort of recovery. I tried creating a Recovery media using the Dell Backup and Recovery software and it also stops saying that an error has occured. How informative.
If the recovery image is only inaccessible, I wanna know if anyone has tips to get it fixed.

This is the current state of Disk Management screen. Why are there so many partitions? The right click menu only pops up for C: partition. It's empty for other partitions.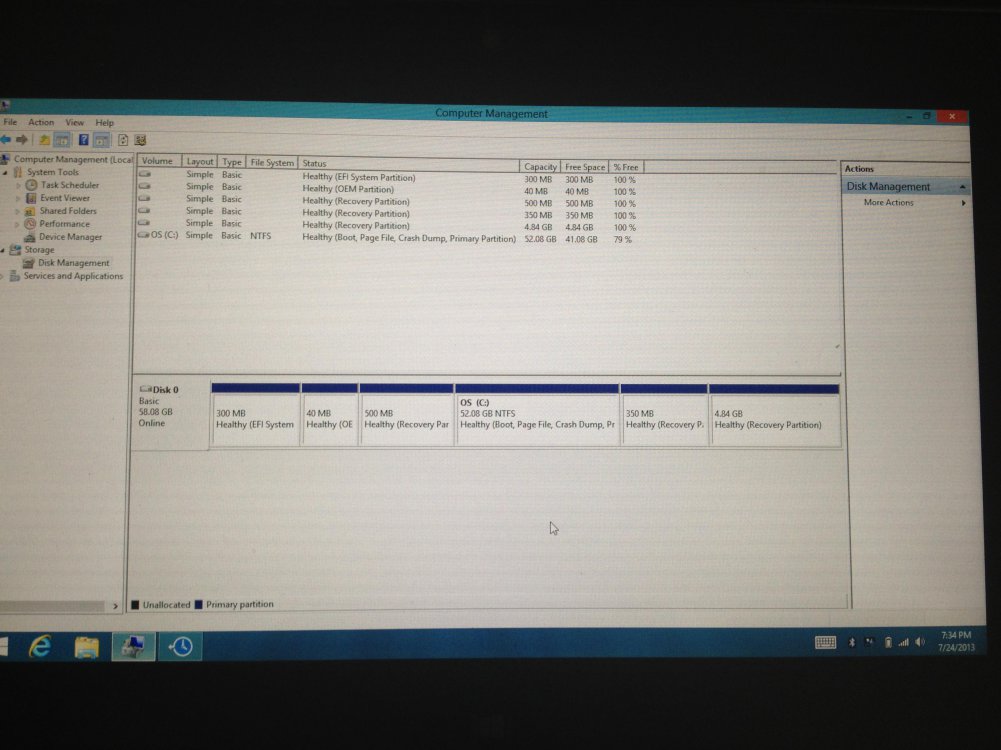 BTW, I have Windows 8.1 Preview installed as well. I have used Refresh few times after that as well. I don't think it has anything to do with the issue. But it would be great if I can reset it back to factory image before sending for RMA.
Thanks in advance.
My Computer
OS

Windows 8.1 Pro x64

Computer type

PC/Desktop

System Manufacturer/Model

DIY

CPU

Intel Core i7 4790K @4.5GHz

Motherboard

Asus ROG Maximus VII Gene

Memory

16GB A-DATA DDR3-2400

Graphics Card(s)

Gigabyte GTX 970 Gaming G1

Monitor(s) Displays

QNIX QX2710

Screen Resolution

2560x1440

Hard Drives

Samsung 840 series 250GB
Toshiba DT01ACA300 3TB (Data)
Western Digital Caviar Green WD30EZRX-00DC0B0 3TB (Backup)

PSU

Silversonte G series 750W

Case

Silverstone Sugo SG09

Cooling

Noctua NH-U12S

Keyboard

Generic

Mouse

Logitech G602

Internet Speed

200Mbps/200Mbps Fibre

Browser

Google Chrome

Antivirus

Windows Defender