I thought I'd make a thread that contains some useful info and some cool tools to use to make Win 8 all pretty and customised to your needs and geeky desires.
I will start with some basics and then list some tools you can use. Please feel free to add what you use and I will update the post with your suggestions and recommendations.
*
Please note all tools and methods are used at your own risk
, break your system and rant to me about it and I will laugh at you
~ Remember you are doing stuff Windows 8 is not designed to do but if you follow instructions provided by the authors you won't go wrong.*
Patching your system to allow Visual Styles​
The first thing you will need to do is patch some files to allow you to add an unsigned custom "Visual Style" (VS) they are : themeui.dll, UXInit.dll and uxtheme.dll
You can use
THIS
or
THIS
. Please follow the instructions TO THE LETTER and you are good to go. Really easy to do and it's free.
*NOTE* Not sure if these will work on 8.1 but I'm sure they will , once a final version is released.
How to add a Visual Style.​
Download a VS from your favourite source ( I will list some later on in the post) then unZip/unRar if needed. You will have to copy the unpacked files to your themes folder. This is located here :
C:\Windows\Resources\Themes
You should now have placed the "theme" and a folder containing shellstyle.dll and wallpaper ( If one is provided ) into the correct place.
As you can see I have the VS named " Base" theme file and a "Base" Folder.
You will on occasion get optional/additional files included that you will need to change, but I won't mention how to change them as they can be very tricky to do and you could mess up your system doing so. Countless times I have messed up something had had to reinstall Windows 7 , not had the pleasure of it on Win 8 ....yet !
So follow the VS authors instructions in changing
.dlls
and if you mess it up , blame them and not me lol.
For information on taking ownership of files see here :
http://www.eightforums.com/tutorial...le-folder-drive-registry-key-windows-8-a.html
Now go to the desktop , right click on an empty space and select "Personalise"
Now select your newly added theme.
Job done !
Good sites to download Visual Styles.​
DeviantArt
is the obvious first choice and has some great user groups you can join. Please feel free to add your favourites or other sites and I will update this post. Here are a few to get you going.
#Creativ-Xtreme on deviantART
#Visual-Stylz on deviantART
#deskmodder-de on deviantART
Other Sites :
Windows 8 Themes | Winaero
Windows 8 Themes - Winempyrean
Alternate Methods :


​
7tsp
is a very easy way to customise Windows 8 . It's FREE and very easy to use.Designed for Windows 7 ,works well on 8. Lots of stuff available for it.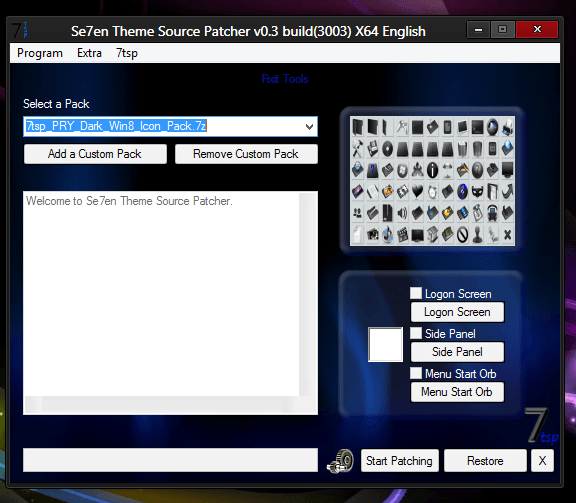 We wanted a simple way to customize our complete Se7en OS, so we created 7tsp. The patcher will back up the original (current) system files, and patch your Windows 7 with a resource pack. There are official color packs available for download and users have created some cool custom themes. It's possible to create your own custom Theme/Icon pack's and apply them with the 7tsp GUI. Modifications can include icons, bitmaps, cursors, visual style, Start button, side panel, logon screen, sounds, fonts, task manager colors, copy animation colors, etc.
WindowsBlinds for Windows 7/8
Not a free product but offers a 30 day free trial ~ $9.99 to buy .Some of the better premium themes come at a price but software is included to make your own themes. slight learning curve but has a good forum and users willing to help.
[video=youtube;30LDLen8PUA]http://www.youtube.com/watch?feature=player_embedded&v=30LDLen8PUA[/video]
You're a unique individual with your own personal style - so why does your desktop look the same as everyone else's? Choose from thousands of themes, change their colors, add textures, wallpapers, even start from the default Windows Aero theme if you wish.





Customise Windows Explorer UI

​
WinAero
has made some great tools including :
Ribbon Disabler for Windows 8
:
Get rid of the new explorer ribbon by clicking a button then log off and back on again and go back to the Win7 look. Easily enabled again at a click of a button.
Ribbon Disabler for Windows 8 allows you to disable Ribbon in Windows 8 Explorer and preserve Paint and Wordpad working.
Skip Metro Suite
:
Skip Metro Suite for Windows 8 allows you to boot directly to Classic Desktop in Windows 8 RTM and Release Preview. Also it allows you completely disable all edge panels, not just hide them! All of them will be disabled, including square start button at bottom-left corner.
Pin to 8

This one can pin ANYTHING to your Start Screen or Taskbar in Windows 8:
Any file - not only executables.
Any folder
Any applet/active x, for example, "Run" command or "God mode" folder
Any Library
Ultra easy to use , just locate the "thing you want to pin" and apply.
Restore the Start Menu
Covered fully in the tutorial section of this forum. Nuff said
On site tutorial links

​
Lots and lots of
Customisation tutorials
all covered here on this forum written by members and staff.
Desktop customisation


​
Rainmete
r
being one of the best known applications and highly customisable with countless themes and tweaks.
Rainmeter displays customizable skins, like memory and battery power, RSS feeds and weather forecasts, right on your desktop. Many skins are even functional: they can record your notes and to-do lists, launch your favorite applications, and control your media player - all in a clean, unobtrusive interface that you can rearrange and customize to your liking. Rainmeter is at once an application and a toolkit. You are only limited by your imagination and creativity.
Thooseje
has been around for a long time and has lots of stuff to offer.
Now there is a completely renewed Thoosje Windows Sidebar 8 you can download free. It has his own unique developed independent windows gadgets system and runs on Windows 8. So you can get your windows gadgets back in Windows 8 or run it in older windows versions. For developers it's also possible to develop new gadgets for the free Windows Sidebar 8.
XWidget
is a cool application that lets you add various widgets directly to your desktop. Just mind the links you click as you will install all kinds of junk .
XWidget is a Free desktop customization platform. It's light, handy with powerful visual widget editor and very smooth animations
Customise Metro

​
Obly Tile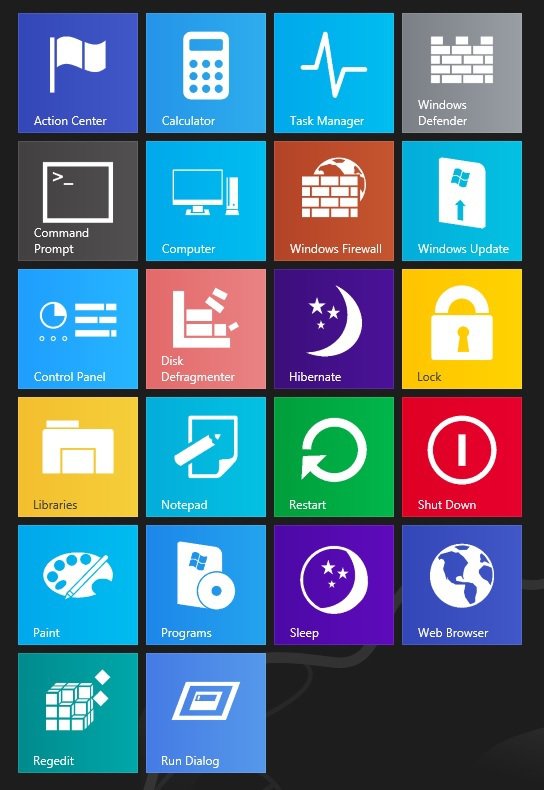 OblyTile is an application that allows anyone with a Windows 8 computer to add, modify, and delete tiles for the not-so-new tile array in Windows 8. This will allow you to create tiles not only for programs and applications, but for files and folders as well! The app works in a simple fashion by creating the files and storing them locally in the program folder. It then links them from the Start menu, and presto—Instant tiles! As of now, the app is limited to creating 120×120 square tiles, but the dev may implement other sizes in future revisions.
Hope thats helped you out on your journey into customising Windows 8. Got any tricks , tips or tools ? Please share.
Thanks for reading it is a bit
tl;dr
I know.
Last edited:
My Computer
OS

Win 8 X64

Computer type

Laptop

System Manufacturer/Model

Acer Aspire E1-571 V2.09

CPU

Intel i5 Mobile 3230M

Motherboard

Acer EA50_HC_CR Type2

Memory

8 Gig DDR3

Graphics Card(s)

Intel HD 4000 Mobile

Sound Card

Realtek High Definition Audio

Monitor(s) Displays

Generic PnP Monitor (15.3"vis)

Screen Resolution

1378 x 768

Hard Drives

WDC WD5000BPVT-22A1YT0 [Hard drive] (500.11 GB)

Cooling

Standard Acer Laptop

Keyboard

Standard Acer Laptop

Mouse

Daffodil WMS330 Wireless Optical Mouse 2.4GHz

Internet Speed

Fast enough for p0rnz lol

Browser

Chrome (Latest Dev build)

Antivirus

Avast ~ Free

Other Info

Part time idiot and basement dweller ....So when you call me one its true lol.