Polyhedric Stellation
VIP Member
Pro User
Hi Hopachi

Im new to windows 8 (my XP machine has all but died!) and was disappointed with the range of cursors available. But then Google brought me here!

I LOVE the media centre aero colored which I downloaded but then my laptop asked me what it should open the file with ..........um..........sorry

Im not too clever with the technicalities, please could you tell me know how to do it?

Thank you
Hi there, welcome to the forums!
That cursor is one of my favorites as well.
Sorry there are no instructions (yet) but I'll show you how it's done here in this post.
There are even ways to install the theme through inf files or registry settings but I'll cover the usual / manual install.
Changing the cursor (theme) workaround
:
To use the new file(s) first unzip/open the downloaded file. There you find a folder and/or in that folder the needed files. Then you can
place those (extracted) files
, the static (*.cur), or animated files, in this case, (*.ani) anywhere you want (Windows cursors are placed in "
C:\Windows\Cursors
" so this might be the ideal place where you'll need to browse to the files).
You then need to access mouse settings from Control Panel -> Mouse or by right clicking on the Desktop -> Personalization
That will open the cursor settings then go to pointers: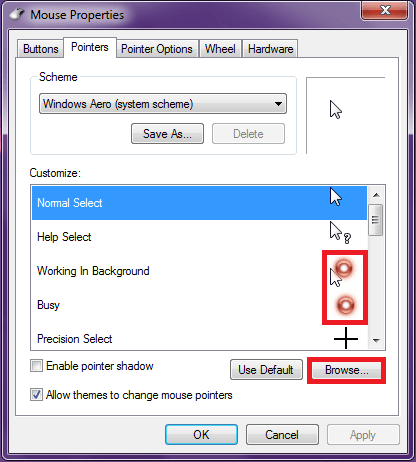 You can double-click the ones needed to be changed or select each one and go to browse. Here we browse to our cursor folder needed (where you placed the extracted cursor files).
After all is changed you can even save (see below: select "save-as" and enter a theme name) the cursor theme (scheme) as a new scheme and the settings will be kept for later use, in case the cursors get changed by you or the Windows Themes.
That's it.
Hope this helps.
Last edited:
My Computer
OS

Windows 10 x64

Computer type

Laptop

System Manufacturer/Model

HP Envy DV6 7250

CPU

Intel i7-3630QM

Motherboard

HP, Intel HM77 Express Chipset

Memory

16GB

Graphics Card(s)

Intel HD4000 + Nvidia Geforce 630M

Sound Card

IDT HD Audio

Monitor(s) Displays

15.6' built-in + Samsung S22D300 + 17.3' LG Phillips

Screen Resolution

multiple resolutions

Hard Drives

Samsung SSD 250GB + Hitachi HDD 750GB

PSU

120W adapter

Case

small

Cooling

laptop cooling pad

Keyboard

Backlit built-in + big one in USB

Mouse

SteelSeries Sensei

Internet Speed

slow and steady

Browser

Chromium, Pale Moon, Firefox Developer Edition

Antivirus

Windows Defender

Other Info

That's basically it.