Hey EightForums community.
I don't know why, for some reason, my CPU is always at 100%. I double-check under the Performance tab and it confirms it.
As soon as I close the offending programs that are eating up the usage, other processes just take its place.
Here are a few examples: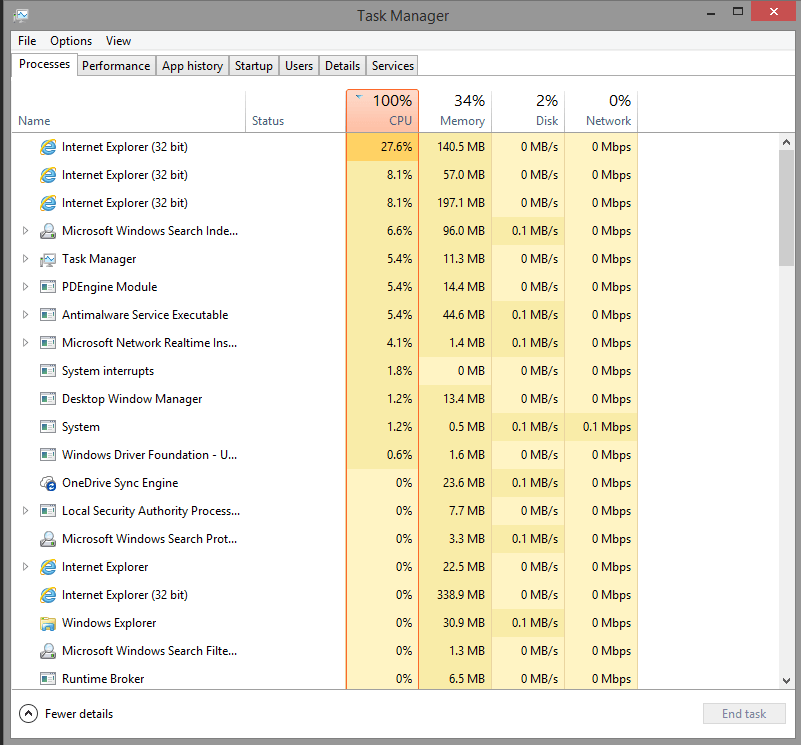 I did a malware scan via MalwareBytes and used Windows Defender, restarted the system and still can't figure out what's wrong.
The OS is on an SSD that was installed on it a few months ago, so relatively new system.
Any help would be appreciated!
Thanks,
David
My Computer
OS

Windows 8.1 Pro with Media Center

Computer type

PC/Desktop

CPU

Intel Core i7-4790K Haswell Quad-Core 4.0GHz LGA 1150

Motherboard

ASUS Z97-A LGA 1150 Intel Z97 HDMI SATA 6Gb/s USB 3.0 ATX Intel Motherboard

Memory

CORSAIR Vengeance 8GB (2 x 4GB) 240-Pin DDR3

Graphics Card(s)

ASUS GTX750TI-OC-2GD5 GeForce GTX 750 Ti 2GB 128-Bit GDDR5 PCI Express 3.0 HDCP

Sound Card

NVIDIA High Definition Audio

Monitor(s) Displays

ASUS VG248QE Black 24" 144Hz 1ms (GTG) HDMI Widescreen LED Backlight LCD 3D and 20" 2009m HP Monitor

Screen Resolution

1920 x 1080 and 1600 x 900

Hard Drives

Intel 730 Series 2.5" 240GB SSD (OS + programs) WD Blue 1 TB HDD: 3.5 Inch, 7200 RPM (personal files)

PSU

Antec HCG M Series HCG-620M 620W ATX12V

Case

AZZA Solano 1000 Black Japanese SECC Steel/Metal mesh in front MicroATX/ATX/Full ATX

Cooling

Fans. Everywhere. (but they're surprisingly silent)

Keyboard

HP USB keyboard, 6 ft cable, Height: 1.1 inch, Width: 6.3 inches, Length: 17.3 inches

Mouse

HP USB mouse, 6 ft cable,

Internet Speed

36 Mbps download, 6 Mbps upload

Browser

Internet Explorer 11

Antivirus

Windows Defender + MalwareBytes