I am trying to copy some files (iPhone photos) from one folder to another. And of course, there are duplicates, as iPhones are prone to create. Equally frustrating, I am only getting two options for the warning, "There is already a file with the same name in this location," on Windows 8.1: "Copy and Replace" and "Don't Copy." It would be nice if there was a 3rd option, such as, "Copy But Keep." That way I wouldn't need to rename 45 files on my own or leave them in separate folders. However, I have scoured the Internet (Google and Youtube), and I have found some videos/articles that address the issue, but I have had no such luck with any of them being of any use to me now.
Irrelevant Option 1:
Click "Copy But Keep"
This option no longer appears on Windows 8.1.
Irrelevant Option 2:
Click "Let me decide for each" and *then* click "Copy But Keep."
This option no longer appears either on Windows 8.1
Irrelevant Option 3:
You now need to copy multiple files in order to see "Let me decide for each" and go through the process of Irrelevant Option 2.
This trigger for Irrelevant Option 2 no longer seems to work either.
So I am hoping someone might be able to help me with a short-cut.

This is my first time posting, so I hope the screen shot displays properly and that it gives you all a better idea of what I am seeing: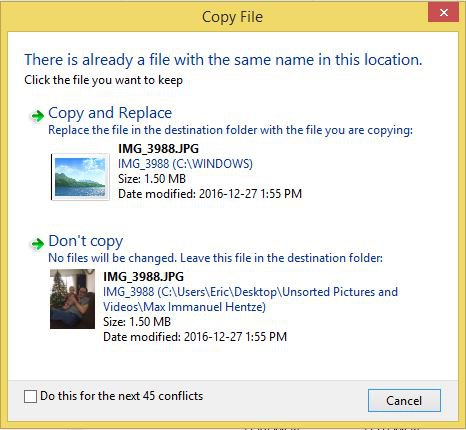 BTW, if it turns out there is no longer a way to transfer a duplicate file in Windows 8.1 and someone is having the same issue as me, I have figured out a longer way to get around this: Instead of transferring files (which cannot be renamed in the iPhone folder [folder 1]) to a folder [folder 2] that will reject most of them,
create a third folder and transfer the files there (which can rename the files), highlight them, F2 to rename all of the files quickly, then transfer them into folder 2
. It's still a bit tedious though. :shock:
Cheers!!
My Computer