Hi All,
The
discussion on Windows 8 SSD defragmentation bug
prompted me to translate to English the utility Russian-speaking people have used for quite some time. I'll maintain the beta status in case some localization issues or other quirks pop up.

What is CheckBootSpeed
CheckBootSpeed is a troubleshooting pack for Windows 7, Windows 8 and 8.1. It's based on PowerShell, and is similar to packs that come with Windows in Action Center or available as
FixIt
.
The pack can:
1.
Create a detailed report
on Windows boot time, collect information on Windows settings that may affect boot performance as well as include other diagnostics data in the report
2.
Identify and fix incorrect Windows settings
that typically slow down system boot by reverting them to defaults.
How to use CheckBootSpeed
1. Download and extract the
attached ZIP-archive
.
2. Start CheckBootSpeed (requires administrative permissons).
3a. Click
Next
to generate the report and fix issues automatically.
OR
3b. If you don't want to apply repairs automatically, deactivate this option.
In this case you'll see a list of issues the pack founds. It
always
offers to create a detailed report.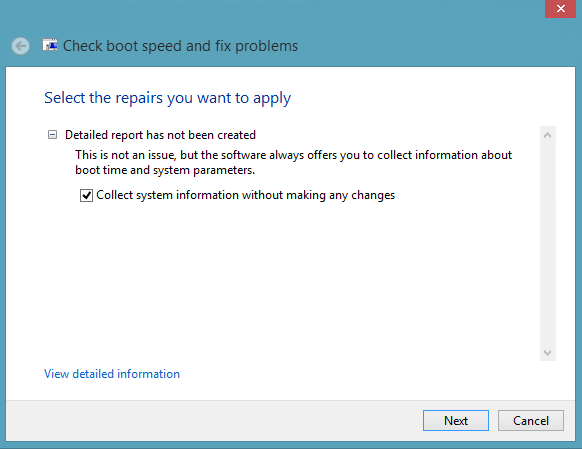 Select the issues you want to fix and click
Next
.
Note
. You can click
View Detailed Information
to see elaborate descriptions of all issues and their effect on system performance.
4. Review the list of fixed issues and detailed report that opens in Notepad.
5. Copy the results from the report and
post them to the forum
.
Q&A
Q.
What does CheckBootSpeed verify and fix?

A. Please see
this technical document
on SkyDrive that also outlines some limitations.
Q.
Can CheckBootSpeed damage my system in any way?

A. No, it simply restores out-of-the-box Windows settings that you or the third party software have modified. The software doesn't contain malware and signed with my personal certificate.
Q.
Will it revert my precious tweaks?
A. On HDD - yes, but they are not precious, since they increase boot time. On SSD - no, because most settings have no negative impact on boot time when Windows is installed SSD.
Q.
Does CheckBootSpeed recognize the disk type (HDD or SSD) automatically?
A. It makes elaborate efforts to recognize it. If it can't, you've got some system problems for sure. In this case, CheckBootSpeed treats your disk as SSD, which leads to more conservative changes in settings.
Q. Does CheckBootSpeed save its reports or leave any other files on the disk?
A. Once you close the Notepad window with the detailed report, the file is automatically deleted. However, an auxiliary file ReadSpeed.xml with the disk assessment results is kept in %temp% to speed up creation of subsequent reports.
to be continued...


Your results and feedback are expected and appreciated
Vadim
Last edited:
My Computer
OS

Windows 8 Pro x64

Computer type

Laptop

System Manufacturer/Model

HP Pavilion dv7t (17.3'', i7-2630QM, HD 6770M 1Gb, 8Gb RAM, 2 SSD@120Gb + 1 HDD@750Gb)