Report: Microsoft's Surface Pro as a secondary HTPC
the guy wrote an enthusiastic essay so please visit the thread for its entirety.
here are some excerpts:
I have a primary desktop-based HTPC hooked up to the main 65" plasma in the living room, but I also have a more modest home theater system in the bedroom, planted firmly in front of an exercise bike. I currently have an entry-level Denon receiver (AVR-1513) hooked up to an Xbox 360 in an effort to trick myself into exercising (lost 25 lbs. so far!) So it's been working, but I thought with a library of 800+ lossless-quality MKVs sitting on my NAS drives and at my fingertips, it would be another great way to pass the time.
I've been using the system for a week now, and although this is not meant to be a review of the device, suffice it to say everything you've read in the reviews is true: it's a full-fledged Windows 8 machine, has a great screen, a nice stylus, an amazing Type Cover keyboard, and USB / Mini DisplayPort connections. It also runs fairly warm and the battery life is pretty short, as reviewed.
One of the first things I did was install my suite of home theater software:
Windows Media Center (as widely reported, unless you purchased Windows 8 early and got a free WMC Upgrade Code, this is a $10 add-on to the system. Not a big deal.)
Media Browser, my preferred front-end for WMC7 (now WMC8?)
LAV Filters (for subtitles, audio handling, etc.)
In terms of hardware, the Surface connects easily to a WiFi-n network as you would imagine. The screen of the Surface beautiful, and thankfully is 1920x1080 resolution, so it maps 1:1 to an external 1080p HD display.
The Surface has a single USB port, which you can use for anything you would on a "normal" computer—a wireless mouse receiver, external storage devices, or (most likely) a USB hub to connect even more devices.
Anyway, back to the HTPC:
I was concerned that the Mini DisplayPort might not support audio, but thankfully it does. Upon connecting the Surface Pro via HDMI to my Denon receiver, the Surface Pro recognized the availability of my HDTV as a secondary display, and like any external display, you can choose how to use it with Windows 8: Mirror the Display, Extend the Desktop, Use Only the External Display, etc. Works like a charm.
Secondly, the Sound Control Panel also recognized the Denon AVR as a Sound device. I was monkeying around with some settings and was initially alarmed because I was getting video but NO audio from my receiver (it was still coming through the Surface), until I realized I had inadvertently set the Sound Control Panel back to using the Surface's relatively-meager built-in speakers. Just make sure to select your Receiver (it should switch to it automatically when you connect an HDMI device) in the Sound Control Panel of Windows Desktop mode, and you can Configure your speakers as normal there (2.1, 5.1, 7.1, etc.)
So, did it work? In a word, yes.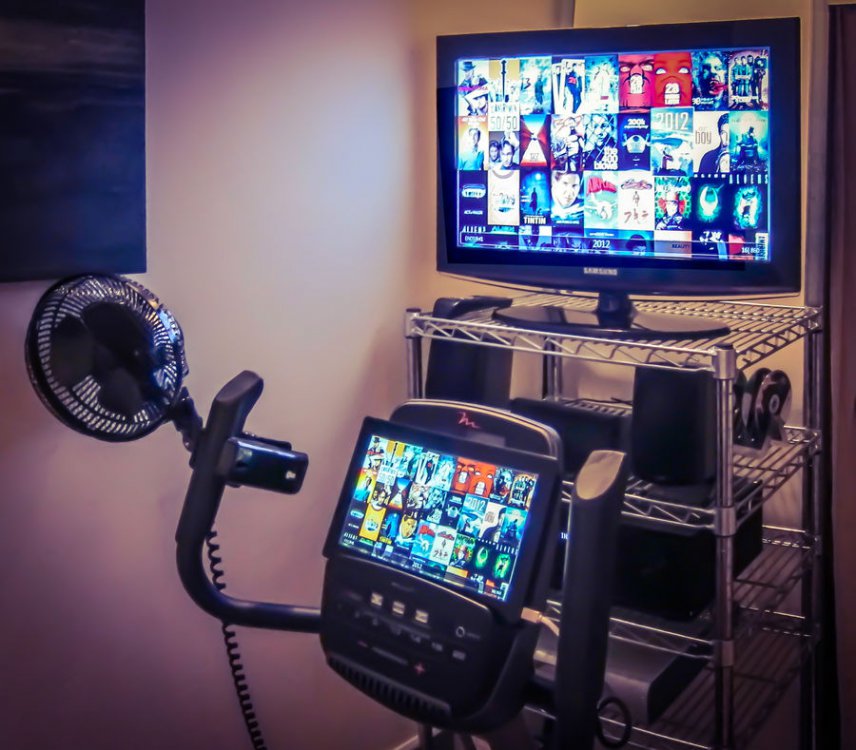 Here are a couple of shots of maybe one of the only 5.1-equipped exercise bikes you're gonna run across. As you can see, the Surface Pro fits perfectly on my particular bike's magazine holder, and it only requires the single HDMI connection to use on my bedroom home theater system. Of course you may need to also plug in a power supply, but a full charge will easily let you watch anything but the longest of films (4+ hours would be pushing it.)
You may notice that I'm Mirroring the display in the photo here, which you might find distracting for watching a movie. No worries, under Power Options you can control what happens when you close the lid of the Surface (in my case, the Type Cover, which is folded back behind the Surface in the photo), and you can just set it to "Do Nothing" when closed, so the system won't go to sleep and you can just enjoy the picture on the external HDTV. Works just like any other laptop in this regard.
I researched several different Remote apps for my Apple iPhone 4S, and found that HippoRemote was an ideal way to control the Surface Pro without touching it. The HippoRemote connects easily to any computer (including the Surface) using the included VNC server (no configuration needed, really) as long as your iOS device is on the same WiFi network as the Surface Pro. I'm sure you can find an equivalent solution—if needed—for Android devices, etc.
What's great about HippoRemote is that only does it have a virtual touchpad, mouse buttons, and multiple keyboard layouts, but it also features a ton of preconfigured control layouts for virtually every popular multimedia program on the computer: everything from iTunes, Netflix, XBMC, and—yes!—Windows Media Center has custom key layouts you can use with common functions readily available. Plus, you can make your own layouts if needed, but the Windows Media Center configuration was great for me. I could quickly scroll around my Media Browser library using the Up / Down and Page Up / Page Down, Enter and Backspace keys to browse for a title. Or, just use the onscreen keyboard to type in the name of the movie you want.
Overall I'd definitely recommend trying a Surface Pro out if you are curious. Don't forget you have a FULL, completely portable Windows 8 PC at your disposal, which opens up all the viewing possibilities you also have: Netflix, PC gaming (a huge missed opportunity in the marketing of this device), web browsing, email, etc. While there are some shortcomings to the Surface (battery life being the most notable), overall the Surface Pro compares well to a MacBook Air—with the legacy catalog of Windows software dwarfing anything available for either OS X or iOS apps, for that matter.
My Computer