How to Change Window Border Width in Windows 8 and 8.1​

Information

This tutorial will show you how to change the border width of windows to what you like in your user account in Windows 8, Windows RT, Windows 8.1, and Windows RT 8.1.



EXAMPLE:

Window Border Width Set Wider or Thinner


NOTE:

This is with the setting of 0 (zero) and -1500 in the steps below

.

​

Here's How: 1.

Press

Windows + R

keys to open the Run dialog, type

regedit

, and click/tap

OK

.

2.

If prompted by

UAC

, then click/tap on

Yes

.

3.

In regedit, navigate to the location below. (see screenshot below)

​

HKEY_CURRENT_USER\Control Panel\Desktop\WindowMetrics​

​
​
​
4.
In the right pane of
WindowMetrics
, double click/tap on
PaddedBorderWidth
to be able to modify it. (see screenshot above)
5.
Type in a data value of
0
(zero) or between
-1
to
-1500
, and click/tap
OK
. (see screenshot below)
Note
The default value is -60. A higher value (ex: -1500) will give you wider window borders, and lower value (ex: 0 or -1) will give you thinner window borders.

Each -17 is equal to 1 pixel in width.


​
​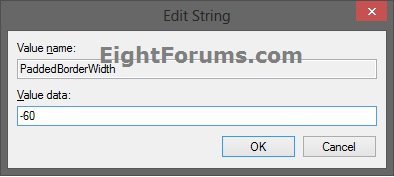 ​
6.
Close regedit.
7.
Sign out and sign in with your user account to apply.
That's it,
Shawn
Last edited by a moderator: